Cruise tourists to grow 77% by 2015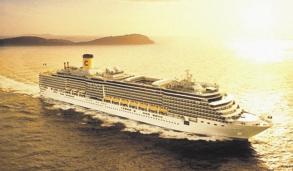 It's full speed ahead for Dubai's cruise tourism industry as the Department of Tourism and Commerce Marketing (DTCM) projects a 77 per cent growth in passenger numbers by 2015.

The long-term strategy includes targeting emerging markets of China, India and Brazil, and working closely with Abu Dhabi as it forges ahead with its own aggressive growth plans for the cruise tourism sector.

"In the cruise industry, the more business our neighbours attract, the more effective it is for us," Hamad Mohammed bin Mejren, Executive Director, Business Tourism, DTCM, told Emirates Business.

"Also, regarding Abu Dhabi, it is important to point out that we are one country at the end of the day. Any competition that exists is healthy for the UAE's overall economy," he said.

For the 2009-10 winter season, Abu Dhabi Tourism Authority (ADTA) has set a target of attracting about 200,000 passengers, a figure it hopes to triple by 2030. Dubai has already raced ahead with its projections for 2010, anticipating 30 per cent growth from last year with 325,000 passengers or 120 ships to dock at Dubai's new cruise terminal, which opens next month.

"By 2015, we expect 195 ships to pass through Dubai's cruise terminal, bringing with them nearly 575,000 passengers," said Mejren. "To achieve this growth, we have invested in infrastructure by building a state-of-the-art cruise terminal, which is to open next month. We are also working with Abu Dhabi, Fujairah, Muscat and Bahrain to offer better port facilities, which will draw an increased number of ships and tourists to this region."

Once open, the new Dubai Cruise Terminal will accommodate four cruise liners simultaneously. Mejren referred to the 3,450 sqm facility as a "mini airport" with its own duty free shops, money exchanges, tourist outlets and other services.

When quizzed about investment in the project, Mejren declined to reveal figures, saying: "We don't talk investment numbers, but I can reveal that the construction itself has taken over six months, with a few delays."

He added: "Investment in the project was necessary as Dubai is aggressively campaigning to promote itself as a cruise destination to major markets globally. We have already attracted Italy's Costa Cruises, which has chosen Dubai as its regional hub since 2007, along with Germany's Aida Cruises."

Earlier this month, Fabrizia Greppi, Vice-President for Corporate Marketing and Communications, Costa Cruises announced that the latest ship from the company's fleet, the Costa Deliziosa, would be named in Dubai on February 23 during her maiden voyage, which starts from Savona on February 5.

She added: "Thanks to our four-year partnership with DTCM, we are boosting our presence in the Gulf by bringing more ships to Dubai. We expect a 40 per cent increase in the number of our guests cruising to Dubai in 2010, with an estimated economic impact of €14 million (Dh73.93m) for the city."

Decliningd to comment on the figures, he saying: "Quantifying the impact of Costa's business on Dubai's economy would be a bit premature, especially if I were to add the business generated by Aida and the Royal Caribbean – the latest cruise company to partner with us.

"However, I can say that by 2015, 33 per cent of Dubai's economy will be impacted by its tourism growth and the cruise sector will play an integral part in that."

Over the past one year, the economic downturn has affected global tourism figures. However, the cruise sector has maintained its pace of 14 million tourists in 2009. Mejren said that Dubai's cruise tourism remained unaffected, as 250,000 passengers passed through it.

"We have successfully drawn a record number of passengers to Dubai last year, especially from Germany, Britain and Italy," said Mejren. "The plan now is to expand on that base and target emerging markets of China, India and South America, specifically Brazil. It is important to focus on destinations that have daily air connections with Dubai.

"We have already opened three offices in China and share a long trading history with India. South America is next on the cards," he added.
Keep up with the latest business news from the region with the Emirates Business 24|7 daily newsletter. To subscribe to the newsletter, please click here.
Follow Emirates 24|7 on Google News.