DED signs MoU with DHL to help push logistics master planning in Dubai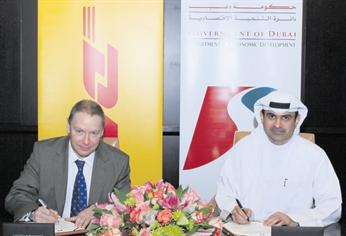 Dubai Department of Economic Development (DED) signed a Memorandum of Understanding (MoU) with DHL Exel Supply Chain, a contract logistics firm.

The strategic deal includes a number of solutions designed to enhance the emirate's logistics master planning in a way that is both commercially viable and supportive of new sectors' growth within the region.

The initiatives, targeted to deliver value in 2010, include developing carbon reduction models and technology solutions within the logistics sector, designing a "service villages" concept to explore innovative ways of reducing congestion and introducing sophisticated sourcing and distribution platforms to facilitate the growth of small and medium enterprises manufacturing sectors.

"The benchmark agreement, the first-of-its-kind in the region, combines the visionary commitment of the Government of Dubai, with the global expertise of the largest logistics services company in the world, to provide a pre-eminent platform to facilitate logistics sector growth," said a statement.

The MoU was signed by Sami Al Qamzi, Director General of DED, and Jon Bumstead, Director, Innovation Incubation and an Innovation and Technology Board Member of Deutsche Post World Net, the parent company of DHL.

"We continue to focus on developing the emirate's most dynamic economic sectors that have been the key contributors to Dubai's growth. The logistics sector is a key component in our growth model, and we believe that our partnership with DHL will make a valuable contribution to the economy and will enhance its competitiveness," Al Qamzi said.

"This new public/private partnership will allow us to take a high-level view of the essential building blocks that are necessary to provide a growing platform within logistics in Dubai," David Christmas, CEO Middle East, DHL Exel Supply Chain, said.

DHL, a Deutsche Post World Net brand, is a global market leader of the international express and logistics industry, specialising in providing innovative and customised solutions from a single source.
Follow Emirates 24|7 on Google News.