DMC to establish ties with Arab Sea Ports Federation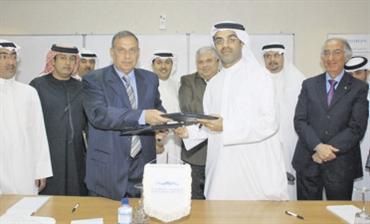 Dubai Maritime City (DMC), the world's first purpose-built maritime centre and a member of the Dubai World Group of companies, has signed a memorandum of understanding with the Arab Sea Ports Federation to explore joint business opportunities and open new avenues for co-operation and mutual growth.

The partnership is part of DMC's programme to engage in long-term business relationships with leading regional and international maritime institutions and reinforce its competitiveness in international markets. DMC's partnership with the Egypt-based federation effectively extends its network and partnerships within the Arab World, while strengthening its presence in key maritime locations across the region.

The MoU was signed between Amer Ali, CEO of DMC, and Rear Admiral Essam Eddin Badawy, Secretary-General of the Arab Sea Ports Federation in Dubai.

"This partnership is an important strategic move as we position DMC to be the premier maritime destination in the region. It is also our aim to build on our common goals to enhance and strengthen the economic prospects of the region's maritime environment," said Amer Ali, CEO of DMC.

"We believe co-operation and constant communication are important components for us to move forward – a consolidated approach that will help us maximise the region's maritime potential." He said the partnership with the Arab Sea Ports Federation was a key step towards achieving a harmonious development in the regional maritime industry.

Both parties have agreed to exchange ideas with regards to maritime policies and strategies, as well as information that will unlock new business prospects.

DMC and the federation aim to achieve better co-ordination, integration and association in various maritime activities, including strengthening strategic ties with maritime bodies.
Follow Emirates 24|7 on Google News.