Domestic air travel in India up as major airlines cut fares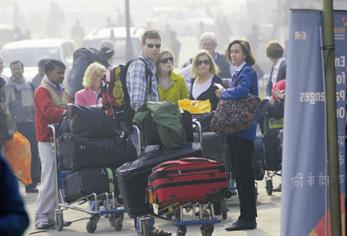 Halfway through the holiday season, domestic air travel in India picked up after major airlines cut air fares, according to industry sources.

It has been reported that travel agents and travel portals have witnessed a surge of about 20 per cent after the fare cut.

On December 30, Air India slashed basic fares ranging from 35 to 82 per cent, while Jet Airways reduced fares up to 40 per cent. The airlines have also introduced schemes such as "companion free" to woo passengers.

The tourist season started with lower occupancies and poor passenger load factors as a result of recession, high airfares and the Mumbai terror attacks.

However, not everyone is totally convinced the lower airfares will increase passenger traffic.

Sandeep Shenoi, a strategist with Pinc Research, told Emirates Business air travel would rebound once the general business environment improves. He said the traffic numbers at the end of January would show whether this surge is one-off because of the holiday season or if it sustains as a result of lower airfares.

The Indian aviation industry in 2008 has been badly hit by declining passengers load factors and high fuel cost.

According to International Air Transport Association (Iata), Indian carriers are likely to account for "one in every three dollars of losses" in the global airline industry this year.

Iata also projected a cumulative loss of $1.5 billion (Dh5.5bn) for Indian carriers this year, stating they will post "the largest loss outside US".

Domestic passenger growth rate fell by almost two per cent this year.

A Press Trust of India report said: "Full-service carriers and low-cost carriers suffered major losses in revenue but managed to survive by joining hands with other airlines to curtail flights as well as other additional costs."

Towards the end of 2008, the fall in ATF (aviation turbine fuel) prices, which accounts for almost half an airline's operational costs, has helped marginally. "Traffic declines started in July and August, and has hit everyone," said Shenoi.

"When the international price of oil went up, ATF cost more than 67 per cent of the operational cost of the airline. Now the cost has come below 50 per cent. But for an airline to be profitable the cost of ATF should be less than 40 per cent," he added.

According to Shenoi, airlines have to improve their top line, which would happen with an increase in passenger load factor.

"This may prove to be difficult with all industry sectors going through a recession. Corporate travel has shrunk, and a great majority is shifting to train travel," Shenoi said.
Follow Emirates 24|7 on Google News.