DP World reviews expansion amid global slowdown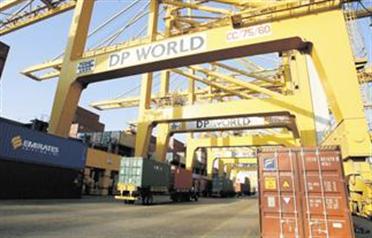 Global marine terminal operator DP World is putting all its expansion plans on hold and freezing new recruitments as part of wide ranging strategies to lessen its exposure to uncertain market conditions, said a senior company official.

The firm is also adopting cost cutting measures.

"However, the company would not cut any jobs under the current conditions and that no plans were in place to shed off any of its recent acquisitions," DP World's Chief Financial Officer Yuvraj Narayan said in a conference call with reporters.

"Expansion programmes are currently on hold, we are reviewing our expansion capital expenditure and this will take about a month before we come up with a final decision on the way forward. We hope to announce our results and outlook in March," he said.

"We are putting a general freeze on new recruitments and making a review of replacements."

He said that cash reservation would be the company's main priority this year and that significant cost cuts would be implemented on areas such as travel and communication.

DP World yesterday announced it handled more than 27.7 million TEUs (twenty-foot equivalent container units) across its consolidated terminals, representing an increase of 15 per cent on last year.

Excluding the contribution from new terminals, that joined the portfolio during 2008, volume growth was six per cent. Across its total portfolio of 46 operational terminals during 2008 the company handled 46.8m TEUs, an increase of eight per cent over 2007.

However, the firm is beginning to feel the impact of the declining performance of the global container shipping sector and remains uncertain about its growth for 2009.

While the company's volume growth was very strong in the first half, with a 122 per cent profit increase, the slowing macroeconomic environment in the second half of the year has impacted volumes at many of its terminals, forcing it to change its bullish outlook.

Volume growth on consolidated terminals grew 10 percent in the fourth quarter compared to the same period in 2007, although that was slower than earlier in the year. The company's ports in Dubai saw volumes reach almost 12m TEUs, an increase of 11 per cent against last year, reflecting slower volume growth in the second half of the year.

DP World operates 48 marine terminals and 13 new port developments in 31 countries worldwide.

Trade activity in the Middle East region and Australia have helped the company to mitigate negative growth in its operations mainly in Asia and Europe, and remains optimistic that will continue to perform better than the entire industry.

Volumes in Europe, Africa and Middle East region grew by 21 per cent, in Asia Pacific and the Indian Subcontinent growth was six per cent, while in the Americas and Australia volumes grew by 10 per cent.

"Despite the difficult conditions ahead of us, our margins will hold… we will continue to benefit from this region," said Narayan.

In 2007, DP World handled more than 43.3 million TEUs across its portfolio, an increase of about 18 per cent on 2006.

Mohammed Sharaf, Chief Executive of DP World said that the company's growth for 2008 was a great achievement given the difficult conditions for the container shipping sector and anticipated strong 2008 results compared to 2007.

"We have successfully integrated our new terminals at Aden, Dakar and Sokhna into our portfolio and won a concession to operate two terminals in Algeria, which will contribute to our volume numbers during this year," said Sharaf.

"We continue to improve efficiencies at our terminals and we are successfully managing the rollout of a major capacity expansion project at our flagship terminal in Jebel Ali," he said.

"We expect the current difficult conditions to remain for the foreseeable future. With this in mind, we have implemented a strategy to focus on minimising the impact on margins and preserving cash."

At the end of last week, UBS Investment Research and Citigroup cut their price estimate for Nasdaq Dubai-listed DP World as the worsening global economic recession may significantly reduce throughput volumes for the international container terminal operator.

UBS maintained its "neutral" rating on DP World but slashed its target price to $0.29 from $0.40. Citigroup also cut its price estimate to $0.50 from $1.10 and rated it a "medium risk/buy."

"The increasing headwinds suggest share price is likely to underperform in the near term on the prospect of significant consensus downgrades, worsening industry and the likelihood that the company will revise 2009 guidance downward," said the UBS report.

A recent report by HSBC research predicts that global container throughput is set to shrink three per cent in 2009, the first time the world's port industry has recorded a fall in volumes, but added that prospects for the port sector were generally good.

London-based consulting firm, Drewry Shipping Consultants, warned in its latest quarterly Container Forecaster that this year would be the toughest test yet for the global container shipping industry and that further casualties among operators were a real possibility. It said that long-held industry rules have changed or become skewed because the downturn happened so dramatically that the existing supply-demand mechanics in all trades have faltered at the same time.

Four container operators, including China's SYMS and SA Independent Liner Services of South Africa, failed in late 2008, Drewry said.
Follow Emirates 24|7 on Google News.