DP World to step up investments in Africa, eyes other countries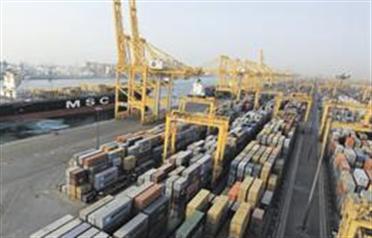 Global terminal operator, DP World, is looking to step up its investments into the African continent and is already exploring new investment opportunities in some countries, said a senior executive at its parent company Dubai World.

The company is searching for opportunities at some of the major ports that act as gateways to the big African market and looking at investing in the construction of more free zones, a new concept on the continent.

"Africa presents us with great potential for investment. It is an emerging economy with high consumption and population levels. We will continue to explore opportunities that relate with our line of business," Sultan Ahmed bin Sulayem, Chairman of Dubai World and DP World, said in a brief discussion with reporters in Djibouti on Saturday.

"As a global company, we look for opportunities across the globe that will help us achieve continuous growth."

Dubai World already has investments in Senegal, Rwanda, Nigeria, South Africa and Mozambique, but is hoping to expand its presence in the continent.

The African Continent has to a large extent been immune to the current economic crisis due to its relatively low dependence on credit to finance trade.

Bin Sulayem said while the company would not escape the effects of the ongoing financial crisis, it was still determined to expand its global network to help its international clients easily co- ordinate their businesses.

The majority of occupants at the recently completed Phase I of the Free Zone in Djibouti are DP World's existing clients in other regions.

"Our expansion will naturally result in expansion of businesses for our existing clients due to the confidence they have in our services," said Bin Sulayem. The first phase of the $330 million (Dh1.2 billion) Doraleh Container Terminal on the tip of the Red Sea in Djibouti was opened on Saturday by the Djibouti's President Ismail Omar Guelleh and Sheikh Ahmed bin Mohammed bin Rashid Al Maktoum, Chairman for Dubai Foundation for Events Management and Organisation.

With a capacity of 1.2 million TEUs (20-foot equivalent units) annually, the terminal is expected to increase movement of goods in and out of the Horn of Africa and improve connectivity between the continent and the Arab World.

The second phase of the terminal's construction due to start at a later stage is expected to drive capacity to three million TEUs.

Besides, investments in the terminal, Dubai World has since 2000 invested approximately $1bn into Djibouti's free zone, customs as well as its hospitality sector. Nakheel hotels owns the Kempiski and Djibouti Palace hotels.

"Our success in Djibouti has given us confidence in channelling more investments into the African Continent. We believe that our move will give confidence to other foreign investors, who have neglected Africa for a long time," said Bin Sulayem.

He said the investments in Djibouti had helped improve the economy in the country through improved business activities, creation of jobs and opening up opportunities for the youth in the Horn of Africa's country.

Bin Sulayem said the lack of proper infrastructure in Africa has taken a major toll on improving business activities on the continent and that DP World would seize the opportunity to invest in infrastructure at major ports. DP World, which recently announced a 15-per cent increase in throughput across its portfolio, currently manages 48 terminals in about 27 countries in various regions.

Mohammad Sharaf, CEO of DP World said the recent low credit rating for the firm would not obstruct it from pursuing its long-term development objectives.

"All our planned projects are based on availability of finance. We will continue with our plans to grow despite the low credit ratings," said Sharaf.

In Africa, DP World runs the Red Sea Port of Sokhna in Egypt and has already opened negotiations with the Egyptian Government to finalise a new 35-year concession agreement.

The new deal would require it to significantly boost container capacity to 3.5 million TEUs over time and various models for the deal are under discussion.

Being discussed is the expansion of industrial facilities at the site by increasing capacity for liquid bulk cargo and construction of a new import export facility for petrochemicals.
Follow Emirates 24|7 on Google News.