Dubai airport to become third busiest international hub by 2011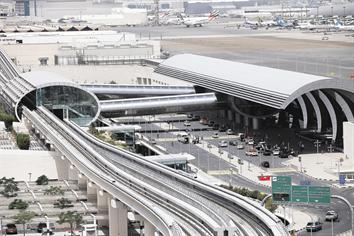 Dubai International airport will continue to rapidly narrow the gap in terms of international passenger numbers to long-established hubs such as Frankfurt, Hong Kong and Amsterdam, according to the latest industry study.

With Emirates projecting capacity increases of 14 per cent for FY2009/2010 and similar rates of expansion going forward, flydubai expanding rapidly and other foreign airlines flying in, Dubai International could come close to overtaking Frankfurt, Hong Kong and Amsterdam by the end of 2010 (but most probably by the end of 2011) to become the world's third busiest international airport, reveals the Centre for Asia-Pacific Aviation (Capa) research.

It adds that Dubai airport has consistently expanded passenger traffic by better than 10 per cent per annum over the past decade.

Dubai also topped the list of 50 largest airports that managed to report growth last year, handling an extra 3.8 million passengers, marking an increase of 9.2 per cent year-on-year, trailed by Istanbul (+6.3 per cent), Kuala Lumpur (+4.6 per cent) and Cairo (+1.5 per cent).

Major airport hubs in Asia and the Middle East suffered less over 2009 than their counterparts in Europe and North America, but the year was anything but an easy, stated the Capa report (analysis drawn from Capa's Airport Business Daily traffic monitor), adding that of the world's 50 busiest airports, just four reported growth in passenger traffic in 2009.


Dubai International setting sights on rival hubs

The global credit crisis and the subsequent slowdown allowed Dubai International to close in quickly on its rival international passenger hubs, according to the Capa study.

It stated that in 2008, Dubai pipped Singapore as the world's sixth largest international passenger airport, handling 300,000 more passengers than the Southeast Asian hub. The airport thus easily recorded the strongest growth of top 10 airports worldwide by passenger traffic.

"Dubai Airports is setting the pace globally. Dubai International's performance as one of the world's fastest growing airports in 2009 is particularly impressive considering the traffic contraction seen globally. If we can set records in a tough economic environment, the sky is the limit for what we can achieve when conditions improve," said Sheikh Ahmed bin Saeed Al Maktoum, President of Dubai Civil Aviation Authority, Chairman of Dubai Airports and Chief Executive, Emirates Airline & Group.

Asked if Dubai airport was the world's fastest-growing airport at present, Dubai Airports' Vice-President for Marketing and Corporate Communications, Anita Mehra, told Emirates Business: "Based on the latest data accrued by Airport Council International (ACI) we project that to be the case for the top 50 international airports worldwide, although full-year data from ACI will not be available for several months."

The airports company, however, did not divulge the passenger forecast for the first half of 2010. "We do not have first quarter/first half forecasts as our outlooks are for the full year. Current projections for the full year 2010 are for 13.6 per cent passenger traffic growth, which will bring our total passenger traffic up from the record-setting 40.9 million passengers that passed through our airport in 2009 to new record of 46 million this year," Dubai Airports' Mehra pointed out.

Meanwhile, the December 2009 passenger traffic at DIA was up 14.5 per cent (slower than usual traffic in Dec 2008), continuing a trend of stronger passenger traffic growth from the bottoming in September 2008, as per the Capa study.

Paul Griffiths, CEO of Dubai Airports, told this newspaper: "There are a number of distinct advantages that ensure Dubai International's growth. Dubai's geographical location, which puts it just four hours flying time from one-third of the world's population and 12 hours from 80 per cent of the population; an open skies policy that welcomes competition, top notch infrastructure and compelling tourist attractions. All add up to make Dubai a very attractive hub for an ever-increasing number of travellers."

Third busiest hub by 2011 after Heathrow and Paris

The mantle of the world's third-biggest international airport is there for Dubai's taking, said the Capa study. As Dubai International clocks in growth, its rivals, particularly in Europe, have been declining over the past two years and economic prospects in Europe remain tepid.

According to the Capa study, the congested Frankfurt International Airport handled 46.7 million international passengers in 2008, down 0.8 per cent year-on-year, and international passenger numbers across German airports are expected to decline by 4.8 per cent in 2009. The German Federal Statistics Office only expects a mild recovery, only two to three per cent in international passenger traffic this year, as the German economy recovers slowly.

Amsterdam Schiphol's international passenger traffic, meanwhile, is suffering even more heavily, down by 9.2 per cent for the year to September 2009 and forecast to contract by close to 8.5 per cent for the full year. Total passenger traffic at the airport is only expected to recover by 0.6 per cent this year, as per the report.

Dubai International will continue to swiftly gain on Amsterdam and Frankfurt as an international hub, since Europe's path to recovery is expected to be slower than other regions, according to the report.

In Asia, however, Hong Kong's two-year contraction in traffic is expected to end in 2010, with the return to double-digit growth of the Chinese economy in Q4 2009.

But traffic growth rates in Hong Kong will probably be slower than Dubai's, owing to a lack of low-cost carrier (LCC) momentum, as per the Capa research.

Emirates and flydubai give impetus to growth

Emirates, which controls 41.5 per cent of the capacity at Dubai International, is clearly an engine of the airport's growth.

"The key driving force is the anticipated expansion in capacity provided by the 130 airlines operating into Dubai International… the largest impetus by far being provided by Emirates and flydubai," said Mehra.

However, Dubai airport per se is far less reliant on its home carrier than Abu Dhabi-based competing carrier, Etihad Airways, which controls 74 per cent of the capacity, as well as Qatar Airways in Doha controlling 57 per cent capacity. But while Emirates will drive growth at Dubai International for years to come – with the carrier set to remain at the airport – LCCs and foreign carriers may slowly migrate to Dubai's new Al Maktoum International airport due to start operations in June this year.

Also driving Dubai's growth in passenger traffic has been Dubai' first budget carrier, flydubai, which launched operations only in June last year, quickly grabbing three per cent of the traffic at Dubai International in a short span of time.

The carrier, which has already expanded operations to 11 destinations, and taken its fleet from one to six Boeing 737-800s, is set to grow aggressively in 2010 "like Emirates", according to the Capa study.

It states that flydubai's initial round of routes were launched primarily to Middle East destinations, mostly outside the Gulf Cooperation Council, most offering direct competition with Emirates.

Emirates, meanwhile, which now operates from dedicated Terminal 3 and Concourse 2, aims to become one of the world's largest airlines, with massive orders already in place besides a list of new destinations already planned for 2010.

The carrier took delivery of 10 widebody aircraft last year, including three A380s, and fleet growth in 2010 is expected to continue. Emirates is scheduled to take delivery of eight A380s this year (40 per cent of Airbus' planned 2010 A380 production), as well as five other widebodies, mostly Boeing 777s. The carrier, which received its eighth A380 in end-January, will see the remaining seven (for this year) to be delivered by November 2010.

Meanwhile, for the six months to September 30, 2009, Emirates increased passenger traffic by 18 per cent year-on-year. The carrier is due to launch services to Tokyo, Japan in March this year, with Tokyo serving as Emirates' 102nd international destination, following the recent launch of operations to Durban and Luanda in October of 2009. Later this year, the carrier will also launch services to Amsterdam, Prague and Madrid, with more destinations expected to be unveiled during the course of the year.

Al Maktoum International's launch

The first airline to start operations from the new Al Maktoum International Airport is due to be announced in the first quarter of this year, Griffiths, CEO of Dubai Airports (which manages both Dubai International and Al Maktoum International) recently told this newspaper.

"I am hopeful that during the first quarter of next year we will get some level of interest," said Griffiths, adding that the airports company is talking to everyone.

"The idea is that both the existing and the new airport will have the capacity and people will have options. So if airlines want to operate from the new airport, clearly we would be delighted to facilitate that," Griffiths pointed out.

Strong global competition

Hong Kong International Airport: Closely competing with Dubai International, Hong Kong International Airport has been shrinking in all categories in 2009, according to the Capa study. After reporting "mild" growth in 2008 (a 1.7 per cent increase in passenger traffic, and a 3.1 per cent decline in freight tonnage), Hong Kong International Airport's (HKIA) 2009 traffic contracted across all three major traffic categories: passenger numbers, freight tonnage and aircraft movements, according to Capa.

The study reveals that for the full year, passenger numbers at HKIA fell five per cent year-on-year to 46.1 million, while cargo tonnage dropped 7.7 per cent, to 3.35 million tonnes.

Dubai International, meanwhile, had pipped Hong Kong International Airport in terms of passenger numbers for the first time in June 2009, according to the Capa report. It said: "The global financial crisis has accelerated Dubai's ascent, as key financial hubs, like Hong Kong, fell back sharply.

It added: "Dubai International, home of the aggressive, fast growing Emirates Airline, continued its relentless climb up the ranking of the world's busiest international airports. In 2008 it was Singapore, and earlier last year it was Bangkok."

The decline at HKIA has slowed through the year and Dec 2009 saw across-the-board improvements in all traffic categories (albeit off a weak base in Dec 2008), the Capa study pointed out.

As visitor numbers into Hong Kong grew four per cent last year, transfer and transit passengers declined six per cent, indicating that the airport is still suffering from the downturn in long-haul traffic, particularly between Europe and Asia, as a result of the global financial crisis, which declining premium travel to/from Hong Kong, according to the study.

Singapore Changi: Last year was the "year of the low cost carrier" for Singapore Changi International Airport, according to Capa research, which reveals that over the year, the airport reported passenger traffic of 37.2 million, down 1.3 per cent year-on-year, a reduction of approximately half a million passengers.

As network airlines at the airport, such as home carrier, Singapore Airlines, reduced capacity, LCCs continued their strong growth trajectory. Despite the pressure that the airport came under during 2009, with the dual crises of the global economic downturn and the H1N1 outbreak, there were several bright spots during the year, including the regional liberalisation, Capa report points out.

Finally, 2009 ended strongly for Singapore Changi, with the airport reporting a record 3.83 million passengers for December 2009.
Keep up with the latest business news from the region with the Emirates Business 24|7 daily newsletter. To subscribe to the newsletter, please click here.
Follow Emirates 24|7 on Google News.