Dubai Airports is fifth largest global cargo handler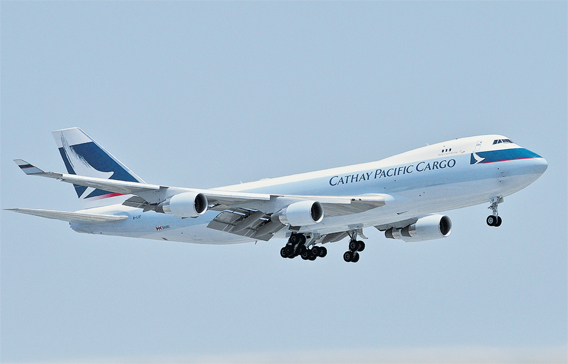 Dubai Airports jumped two steps higher to become the fifth largest cargo handler following a 5.6 per cent growth in air freight in 2009.
Memphis International Airport is the world's largest cargo airport for the 18th straight year followed by Hong Kong and Shanghai.
Although the Airports Council International (ACI) index, updated on February 15, continues to place Dubai Airport, in the seventh position based on cargo handled during the past 12 months, ending November 2009, the emirate has witnessed a significant movement during the last two months, moving up by two spots.
Dubai Airports last week announced that its cargo and passenger movement continued upward trend. Cargo registered its fourth consecutive month of double-digit increases with freight volumes surging 31.5 per cent.
Dubai Airports Cargo handled 171,453 tonnes of freight in January 2010, compared to 130,375 tonnes during the same month in 2009.
The steep increase in freight volumes in January is the result of a surge in economic activity as well as the continued expansion of Emirates Skycargo, both of which contributed to a 39.9 per cent rise in trans-shipments, a 33.6 per cent increase in exports and a 29.3 per cent uplift in imports said a statement from the Dubai Airports.
Meanwhile, global air-freight traffic has been witnessing an increase during the last few months with December alone, registering a 23 per cent growth in December, according to International Air Transport Association (Iata).
Memphis International handled 698.5 million pounds of cargo, up 5.9 percent from 659.6 million in January 2009. The authority also reported $1.61 million (Dh5.91m) in ground transportation revenue in January, a 5.9 per cent increase compared to $1.52m in January 2009.
At Hong Kong airport, which occupies the second spot, cargo throughput rose 43.3 per cent from a year earlier to 301,000 metric tonnes in January. It attributed the surge in demand for air cargo transportation to a 55 per cent year-on-year growth in imports and a 51 per cent growth in exports during the month.
Abu Dhabi Airports Company (Adac) last week released its January 2010 report, saying cargo witnessed a significant rebound, up 25.6 per cent over the same period last year.
Overall, air freight declined by 10.1 per cent in 2009. However, Iata expects a modest improvement of 7.7 per cent in 2010 although total freight volumes will remain 10 per cent below the 41.8 million tonne peak recorded in 2007, "although cargo demand is rising slightly faster than world trade as companies look to replenish inventories. Yields have been hit hard, last year plummeting 15 per cent. They are expected to only improve by 0.9 per cent in 2010", said a recent Iata statement.
Middle East is the only region that witnessed some growth during 2009. According to ACI statistics, air freight movement in the region grew by 4.9 per cent during 2009. Dubai International Airport's performance was, however, above the regional growth level increasing by 5.6 per cent.
Memphis reportedly landed 3,697,806 metric tonnes of cargo, up 0.4 per cent from 3,696,190 tonnes in 2008. Freight tonnage fell 7.7 per cent at Hong Kong, to 3.35 million tonnes from 3.627 million tonnes.
"Freight growth is likely to continue throughout the rest of the year as additional capacity comes on line and global cargo movement picks up," said Paul Griffiths, CEO of Dubai Airports.
A portion of that traffic growth will be accommodated at Dubai World Central – Al Maktoum International when it opens in June for cargo operations.
Keep up with the latest business news from the region with the Emirates Business 24|7 daily newsletter. To subscribe to the newsletter, please click here.
Follow Emirates 24|7 on Google News.