Dubai passenger traffic up in December 2008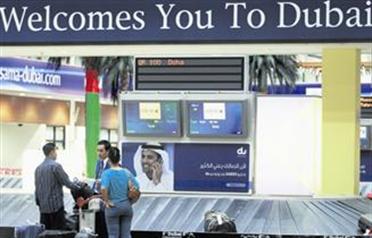 Dubai was the only international airport among the global top 10 airports, which reported an increase in passenger traffic in December 2008, while others reported declines, according to latest data from Airports Council International.

The report said that in December 2008, global passenger traffic growth fell by six per cent compared to December 2007, as did international and domestic traffic.

The top 10 international airports all reported declines led by Bangkok (42 per cent), London Gatwick (14 per cent), Incheon (13 per cent) and Tokyo Narita (10 per cent). Dubai was the only exception registering a five per cent increase.

Preliminary traffic results for 2008 show that for the full year, worldwide passenger traffic remained flat, thanks to strong growth in the first quarter which balanced the year-end decline, whereas year-end results in the freight sector, which did not benefit from any significant surge in traffic during the year, retracted in 2008 (international freight three per cent, domestic seven per cent and the worldwide average 4.5 per cent).

Domestic passenger traffic results were buoyed by China, where the large airports showed double-digit increases once again led by Beijing (22 per cent), but the strong increase in China was offset by continued weak performance in India and the US where the large airports (Los Angeles, Chicago, Las Vegas and the New York City airports) suffered double-digit reductions.

European domestic traffic (12 per cent) was strongly impacted by the Spanish market, with Madrid and Barcelona reporting reductions of 19 per cent and 24 per cent, respectively. The Middle East region grew by seven per cent with international airports such Abu Dhabi, which is not included in the top 10, showing an increase of 30.2 per cent.

Freight traffic was heavily impacted by the devastating global economic climate in December 2008, with worldwide freight down by 20 percent, international freight by 25 per cent and domestic by nine per cent. ACI World Director-General Angela Gittens said: "December terminated a turbulent and sobering year for the airport industry. A very promising first quarter was followed by steadily decreasing demand, resulting in a flat finish for the year. Domestic traffic in the US was particularly hard hit due to high fuel prices earlier in the year and the subsequent economic crisis, whereas international traffic performance was bolstered by good results in the Middle East, Africa and Latin America markets. There are, however, no safe havens for freight."

Airports and their aviation partners will have the opportunity to review the world situation, its impact on airport business and the future outlook at the ACI Economics and Finance Conference held in London on February 10 and 11.

"When we first began planning for this event, the key concern for the industry was the high price of fuel," said ACI World Economics Director Andreas Schimm.

"Within six short months the entire focus shifted to the growing world financial crisis and its implications for airport planning, capacity and long-term investments. An overall contraction in 2009 is inevitable and could be as strong as minus four per cent according to ACI's recently revised short-term forecast . We hope to see the bottom of this accelerated downward passenger traffic trend in the first quarter 2009 and a slow stabilisation of traffic figures during the rest of the year. The conference will provide an excellent forum for discussing strategies to meet this challenge and deal with shifting economic climate."

Gittens said: "The aviation industry has experienced and survived economic cycles and crises in the past. The long-term forecast for traffic growth remains basically unchanged.

"We must work closely with our aviation partners, despite current setbacks, to prepare for the resurgence of global markets."
Follow Emirates 24|7 on Google News.