Dubai Trade and UASC in talks to streamline work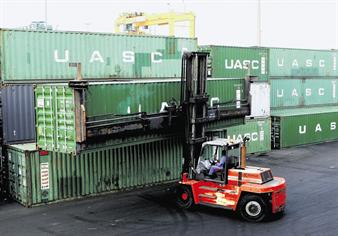 Dubai Trade, a Dubai World company and an end-to-end online business service provider, is looking to strengthen trade with United Arab Shipping Company (UASC), a leading maritime operator in the region, to boost customer confidence.

Dubai Trade is hoping to streamline the online electronic transactions between DP World and United Arab Shipping Company, which owns a fleet of more than 60 container vessels with a capacity to ship more than 310,000 TEUs (twenty foot equivalent units).

A meeting in Dubai between Mahmood Al Bastaki, Director of Dubai Trade, and Naif Al Khalidi, Port Operations Director, UASC, discussed ways of developing and enhancing the work mechanism in order to address UASC's needs better and to enhance the volume of specialised services that help to improve trade flow.

The meeting with UASC is a part of Dubai Trade's ongoing customer communication programme that was started to enhance its relations with customers, identify their issues and offer solutions as part of its drive to offer quality services.

The programme also aims to evaluate Dubai Trade's services to customers and identify key areas that require further development.

"Our aim is to encourage the optimum use of online electronic services for transactions. This leads to considerably higher trade flow," said Mahmood Al Bastaki, Director of Dubai Trade.

"Our meeting with the senior officials from the UASC is part of our self-evaluation process intended to identify and cater to our clients' specific requirements. These requirements vary and evolve according to the business dynamics and market conditions."

The talks focused on the online electronic services at DP World and Dubai Customs, and at warehouse and clearance facilities in the port and free zone, in addition to the development of Dubai Trade services.

Dubai Trade has developed innovative concepts in the field of online electronic services in order to facilitate effective electronic transactions between clients and companies such as DP World, Dubai Customs, Dubai Multi Commodities Centre and Economic Zones World.

UASC is one of the key customers of Jebel Ali Port and Dubai Customs and a frequent user of Dubai Trade services.
Follow Emirates 24|7 on Google News.