EADS 2008 profit tops expectations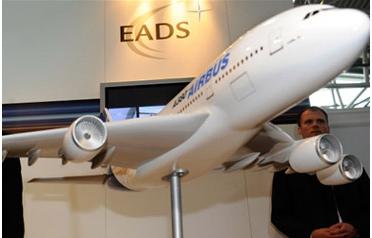 The world's second largest aerospace group after Boeing warned of "significant" further charges in 2009 for the A400M and acknowledged European nations soon had a right to cancel the €20 billion (Dh93 billion) project – while calling this "very unlikely".
Earnings before interest and tax (EBIT) and certain other items, or operating income, rose to €2.83 billion from just €52 million in 2007 when profits had been hit by restructuring charges, programme delays and a weak dollar.
The annual profit included a negative impact of €704 million for the A400M, EADS said, up from €341 million at the 9-month stage and implying a new fourth-quarter burden of €363 million. EADS officials could not immediately comment.
The new items apparently bring provisions or charges for the delayed military transport plane to €2.1 billion. EADS is trying to negotiate a new timetable for the plane, which has been delayed by 3-4 years due to development problems.
Revenue grew 11 per cent in 2008 to €43.27 billion, EADS said, confirming a newspaper report based on a staff newsletter.
Airbus, which saw record deliveries in 2008 despite growing doubts over future demand, swung to an operating profit of €1.79 billion from an €881 million loss in 2007 as its revenue grew 9 per cent to €27.45 billion.
EADS posted a 2008 group net profit of €1.57 billion after a €446 million loss in 2007. EADS proposed a dividend of €0.20, up from €0.12.
Free cash flow before financing fell 12 per cent to €2.886 billion.
Markets had on average expected 2008 EBIT of €2.18 billion on revenue of €41.6 billion and a net profit of €1.18 billion, according to a Reuters poll of 11 analysts.
The same poll pointed to Airbus earnings of €1.21 billion on revenue of €27.32 billion.
For 2009, EADS said a previously published Airbus order forecast of 300-400 planes was "challenging" and that the planemaker faced increasing uncertainties over the second half.
It predicted roughly stable group revenue and operating profit before one-offs that would be "down in 2009 but significantly positive".
CANCELLATION RISK
Analysts have expressed concerns over potential strains on EADS' cash pile, which stood at €9.2 billion at the end of 2008, as airlines tap it for financing to preserve plane orders.
"At this stage, with the current level of visibility, EADS is not expecting to consume more than €1.5 billion of free cash flow after customer financing in 2009," a statement said.
EADS confirmed that delays to the A400M meant its contract with seven Nato nations via pan-European procurement agency Occar could be cancelled on April 1, leaving it exposed to a run on more than half of its available cash as it repays deposits.
The total amount that could potentially have to be paid back is around €5.7 billion, EADS said.
"This termination may only be obtained with a unanimous mandate of all launch nations, which makes it very unlikely according to the assessment of the EADS management," it said.
A German official told Reuters on Monday that countries that ordered the plane, led by Germany, France and Britain, could give EADS an extra few months of breathing space before deciding whether to cancel the plane.
EADS shares closed up 0.7 per cent at €10.195 on Monday, valuing the maker of Airbus jetliners, Ariane space rockets and Eurocopter civil and military rotorcraft at €8.2 billion.
EADS shares have fallen 15 per cent this year, outperforming Boeing by around 17 per cent without adjusting for currencies.
Follow Emirates 24|7 on Google News.
European aerospace group EADS reported a sharp rise in 2008 operating profit despite fresh charges for its delayed A400M military plane on Tuesday, beating expectations as its Airbus unit climbed out of the red.