Emirates seeks additional flights to Canada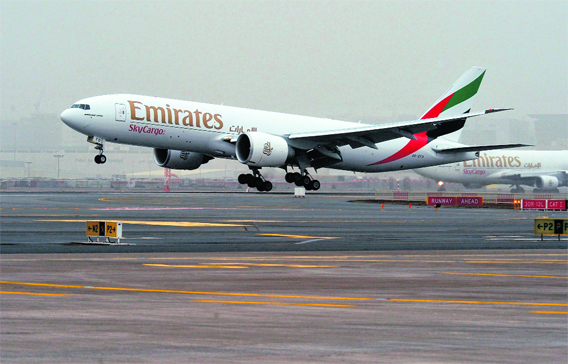 Emirates has urged the Canadian government to allow it additional number of flights from its Dubai hub to Canada, according to a senior Emirates executive.
In order to intensify its push, the airline has come out with a study, which states that increasing flights between Toronto and Dubai from thrice-weekly to daily and double-daily services, and adding a daily service to Vancouver and Calgary, would have an economic benefit to Canada of $480 million (Dh1.7 billion) a year.
"Emirates is seeking federal government approval to progressively increase connections between Canada, the Middle East and Asia," said Andrew Parker, Emirates' Senior Vice-President for International Affairs. "By growing leisure and business traffic, we can help to strengthen Canada's tourism, trade and investment sectors – as well as increase traffic for domestic airlines," he added.
Emirates has been seeking greater access to Canada for over a decade and in mid last year, Air Canada fiercely opposed Emirates' quest to conquer new Canadian markets such as Calgary and Vancouver besides being granted rights to operate daily services between Toronto and Dubai.
The Canadian flagship carrier also said it could be pushed into bankruptcy protection if Emirates succeeds in persuading Ottawa to grant it all these services.
Emirates has, however, kept on with its quest to gain a stronger foothold into the Canadian markets. The carrier also introduced its 489-seat Airbus A380 superjumbo on the Toronto route last year.
The study concluded in early 2010 by independent transportation and tourism experts InterVistas Consulting, on behalf of Emirates, examines the impact of Emirates being allowed additional access to Canada.
"This survey confirms our long-held belief that Emirates can act as an important facilitator for economic growth in Canada", said Parker. "Not only would the services create new jobs, increased tax revenue and tourism spending; but through our extensive global network, we would provide Canada with enhanced links between businesses and greater access to international capital and trade markets."
The study said that Canada's domestic carriers stand to benefit significantly from the projected growth in foreign tourists and business travellers, adding that "no Canadian carrier has ever offered direct flights to Dubai", which is not only a strategic hub for the Middle East but also a key gateway between the East and the West.
POSITIVE IMPACT ON AIR CANADA
Highlighting the potential impact on Air Canada, the study said Canada's national carrier would be a "major beneficiary of new tourism and business traffic" coming to Canada on Emirates, as many passengers will route to Canada's other business and tourism centres.
Emirates has projected that with the additional services outlined, 10-15 per cent of Emirates passengers flying to Canada will interline with Air Canada to access other Canadian destinations.
Keep up with the latest business news from the region with the Emirates Business 24|7 daily newsletter. To subscribe to the newsletter, please click here.
Follow Emirates 24|7 on Google News.