Emirates to raise capacity by 14%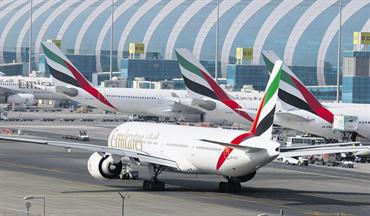 As airlines across the world cut capacity to cope with the financial crisis, Emirates will increase the number of flights across its network by 14 per cent this year besides adding 18 new passenger aircraft to its fleet.

The move would enable the Dubai Government-owned airline to start new routes as well as increase frequencies on many existing routes, the airline said yesterday. It added that it would expand cargo capacity by 17 per cent.

"The additional frequencies will afford passengers a greater choice of flights, more frequent connections with their target markets and shorter, more convenient connection times," the airline said in a statement.

By the end of its financial year 2008-09 (ending March 31, 2009), Emirates plans to take up its fleet of wide-bodied planes to 132, including four superjumbo Airbus A380s, from the current 129 (wide-bodied) aircraft. Emirates, with a total of 58 superjumbos on order, said that seven additional A380s would join the airline's fleet in financial year 2009-2010 (ending March 31, 2010), besides 10 Boeing 777-300ERs, one 777-200LR and one Boeing 777 freighter aircraft.

The carrier had said recently it has no plans to delay or defer aircraft deliveries over 2009, despite a tough credit environment.

"The next year is not going to be an easy ride for the airline industry. Emirates has prepared the best we can for the challenges we foresee, but we also see it as a time of opportunity. This year, with our significant capacity increase, will be a year of consolidation for us, with fewer new routes launched than in previous years," said Sheikh Ahmed bin Saeed Al Maktoum, Chairman and Chief Executive, Emirates Airline and Group.

He added that instead, the airline would concentrate on strengthening its presence on routes where there is a greater demand from its customers. "All of our new capacity will be deployed in markets where we see growth potential, particularly Africa and the Middle East," Sheikh Ahmed said.

Emirates listed Africa and the Middle East as its fastest growing markets, recording 17 and six per cent growth respectively in the last 12 months. Having recently added a second daily flight to Lagos, Emirates also plans to introduce services from Dubai to Durban in South Africa starting October 1, 2009.

Last month, Emirates announced a Middle East expansion plan taking the number of seats in the region to 50,000 on 180 flights a week.
Follow Emirates 24|7 on Google News.