Emirates tops airline service quality poll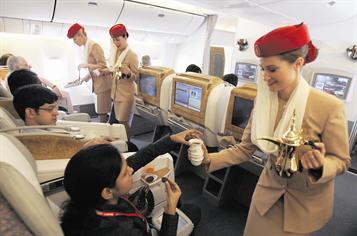 Emirates has narrowly edged its way to the number one spot in a service quality benchmarking report, that saw the Dubai-based carrier compete with six other airlines globally.

Emirates topped the charts with a 92.3 per cent overall performance, reveals Ethos Consultancy's International Airline Benchmarking Study. Abu Dhabi's Etihad Airways comes in a close second, at 91.5 per cent, while the Doha-based Qatar Airways – the only other Middle Eastern carrier – came in last with an overall customer satisfaction rating of only 71.5 per cent.

The Dubai-based customer service consultancy firm analysed a flight experience – from flight booking all the way through to the baggage claim over a two-month busy Christmas period.

"Both Emirates and Etihad have performed very well and should be content with their service quality performance during a very busy period, however their reports were far from perfect. There is certainly room for improvement and consistency moving forward," said Barry Judge, Director of Marketing at Ethos Consultancy.

Rounding up the top three was Swiss Air, with 86.6 per cent. Other airlines making the cut included British Airways in fourth place with 84.3 per cent. The United Kingdom's Virgin Atlantic came in fifth with 79.8 per cent, followed by Air France at 72.3 per cent.


Performance benchmark

The criteria for the study looked into bookings, check-in, baggage drop, boarding, plane conditions, in-flight services such as food and beverage, entertainment and shopping, right through to disembarkation and final baggage claim.

Judge told Emirates Business: "We opted for airlines that departed from either Dubai or Abu Dhabi, flew long-haul for minimum six hours, through economy class. We looked at all customer touch points, that is every time a customer interacts with the airline commencing with booking right through to disembarkation and baggage reclaim."

He explained the study was conducted across 14 flight experiences over the busy Christmas and New Year period to accurately assess how airlines perform under pressure. "It is a time when airlines are stretched because of increased footfall. I think this is a relatively accurate assessment of how these airlines will fare in terms of service quality in 2010, with the exception being British Airways.

"The uncertainty in December as a result of British Airways cabin crew voting for a 12-day strike caused a loss of confidence, which l think is reflected in this benchmarking study," he said.

When contacted, a British Airways spokesperson said: "Customer service is a priority in all that we do at British Airways. We have invested in premium cabin crew training to ensure that we can deliver service standards to match those in the finest hotels and restaurants, and we continue to introduce new products and services despite the economic downturn, to ensure that we maintain our position as a global premium airline.

"Obviously, we are very happy that BA scored highly across several categories, and we are committed to improving our service in all areas, including investing £100 million (Dh582.7) in a new first class cabin, which will unveil early this year."

Other services included providing the first mid-air e-mail and text services on UK-US flights, along with investing in a new fleet for its London City operations. The new aircraft will be in service by June.

The spokesperson added: "We are taking delivery of three new Boeing 777s this year, and three more over the next two years, and we continue to invest in new routes.

"We continue to look at every aspect of our business in our quest for improvement. While we try to consider all available studies that involve customer feedback, we must also consider the criteria relied upon in each study, survey or report."


The winning stake

When quizzed over the choice in airlines, Ethos' Judge said: "We are regularly asked how customer service in the UAE compares internationally by clients or the media and this is a difficult question to answer because there isn't just one answer. It depends on the industry in question and how mature this industry is within a global context.

"The airline industry is fast-moving, dynamic and extremely competitive. And at the forefront are two UAE-based airlines. We wanted to see how these airlines compared to some of the large international airlines that have either Dubai or Abu Dhabi based routes."

There were clear winners in each of the categories, with Eithad scoring 100 per cent in check-in/bag drop services, while Emirates scored less than British Airways (89 per cent) and Virgin Atlantic (85 per cent), coming in fourth at 80 per cent.

Emirates scored low once again in its baggage pick-up service, coming in at 75 per cent, while Etihad had a perfect score in that category at 100 per cent.

However, Etihad's loss was in the plane condition, scoring only 78 per cent, while Emirates raced ahead by 16 per cent. Other categories that the UAE's national carrier lost out to Emirates

included the in-flight services host/hostess and food and beverage, scoring 81 per cent and 88 per cent, respectively to Emirates' 100 per cent

in both categories. Qatar Airways scored low in baggage drop and pick up services, earning only 55 per cent and 50 per cent in both categories, respectively. Other services Qatar Airways scored low in included Boarding (63 per cent), in-flight entertainment and food and beverage (both 75 per cent), and its overall service quality (60 per cent).


Service is key

This is the first such study by Ethos, which Judge says is an important market indicator in such economic times.

"In a recession, customer retention is even more vital. Studies indicate it costs between five and six times more to attract a new customer than to keep an existing customer and Accenture research in 2009 shows increasing customer retention by two per cent has the same effect on profits as cutting costs by 10 per cent," he said.

"Customer service cannot be comprised upon within the aviation industry. It's a linear process...high service quality levels lead to customer satisfaction, which in turn leads to customer retention, which is the driving force behind customer loyalty. Customer loyalty is what every airline should be striving to achieve."

Seeming confident that the outlook should change by the end of the year. Judge said: "Change is inevitable and airlines operate on the precipice of uncertainty. But one thing that need not change is their attitude towards delivering superior customer service. If airlines continue to strive for excellence the outlook will only get better."
Keep up with the latest business news from the region with the Emirates Business 24|7 daily newsletter. To subscribe to the newsletter, please click here.
Follow Emirates 24|7 on Google News.