Etihad announces 34% increase in passengers for 2008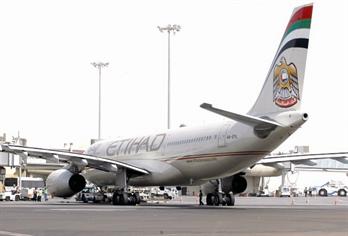 Etihad Airways has announced its 2008 passenger growth, flying more than six million passengers, a 34 per cent increase over 2007.

The growth during 2008, Etihad's fifth year of operations, saw passenger numbers total 6,021,931, and the average seat factor rising from 68 per cent to 75 per cent. The airline has also taken delivery of nine new aircraft boosting its fleet to a total of 42 last year.

According to its annual report, the airline launched six new routes in 2008 – Beijing, Minsk, Almaty, Kozhikode, Chennai and Moscow – and signed a record order of $43 billion (Dh158bn) at the Farnborough International Air show for up to 205 Airbus and Boeing aircraft.

Capping a hugely successful year, a record 20,937 passengers flew with Etihad on December 19, 2008, making it the airline's busiest day.

"Despite the impact of the global economic downturn, Etihad performed extremely well in 2008 and we hit our target of flying more than six million passengers during the year," said Chief Executive Officer James Hogan.

"Etihad now has a flight network of 50 global destinations, with an average seat factor of 75 per cent, which is an impressive achievement in just five years of operations. It is also pleasing to note Etihad's pivotal role in the growth of Abu Dhabi as the emirate becomes a global capital for business and tourism," he added.

The airline also reported all of its passenger cabins experienced significant seat factor growth during 2008. The airline achieved average seat factors in its economy cabin of 77 per cent with flights to the Asia-Pacific region rising to 84 per cent.

Average seat factors in business class increased to 63 per cent during 2008 with flights to European destinations averaging seat factors of 73 per cent.

Hogan said: "It's important to acknowledge the support and close cooperation Etihad continues to receive from Abu Dhabi Airports Company and the Department of Transport in achieving these fantastic figures."

The airline also announced a number of sponsorship programmes in 2008, with announcements of major deals with the Ferrari Formula 1 team, the All Ireland Hurling Championships and the Formula 1 Abu Dhabi Grand Prix, which starts in 2009.

Etihad also announced that from March 2009 the Telstra Dome in Melbourne, which has a capacity of 55,000, would be re-named the Etihad Stadium.

Etihad's Emiratisation schemes continued to develop during 2008 with the number of graduate managers, cadet pilots and technical engineers rising to a total of 122 UAE nationals.

"With Etihad's incredible growth set to continue it is crucial that we develop our multi-talented, multi-cultural workforce with strong Emirati representation," said Hogan.

The airline in 2008 also won 17 global awards for service and innovation during the year. The highlights included winning the "airline of the year" at the Aviation Business, Arabian Business and British Travel Awards.

Etihad announced new code share agreements with Jet Airways, Yemen Airways, Saudi Arabia Airlines and Sri Lankan Airlines in 2008 taking the total number of partners to nine airlines.

The Abu Dhabi-based airline also increased its number of employees to more than 7,000 staff, with the majority living and working in Abu Dhabi representing 121 different nationalities, including more than 2,900 cabin crew and 755 pilots.

The airline's holiday division, Etihad Holidays, increased its revenue by more than 100 per cent compared to 2007. Contributing to the growth was the opening of three Etihad Holidays shops in Al Wahda Mall, Khalidiya Mall and Marina Mall in Abu Dhabi as well as the continued success of promotional sales campaigns throughout the year.

Etihad's cargo division, Crystal Cargo, also continued to expand rapidly during 2008 with the number of cargo shipments handled rising more than 19 per cent compared to 2007.

In the 12-month period, the amount of cargo tonnes transported increased more than 16 per cent to 202,430 tonnes. The record for maximum uplift on a single day was 1,054 tonnes on April 16.

CEO Hogan told Emirates Business all sectors witnessed encouraging growth with some best per forming – in Europe, Brussels destination attained 82 per cent, Manchester 81 per cent and Dublin 79 per cent.
Follow Emirates 24|7 on Google News.