February auto sales seen hovering at 27-year lows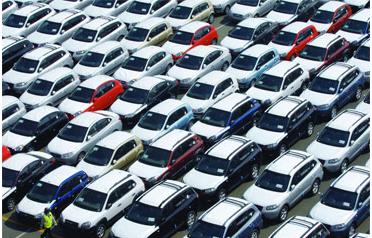 Large dealers, auto executives and analysts have said that the sales trend last month mirrors that of January, when the industry-wide annual sales rate dropped to 9.57 million units, the lowest level since 1982.
Ford Motor Co's chief analyst, George Pipas, estimates that U.S. auto industry sales dropped in February to a range of about 9 million units. Retail sales, or vehicles sold at showrooms, likely declined about 40 percent in February. "The environment continues to be very challenging," he said on Friday.
Citigroup analyst Itay Michaeli said weakness in sales to corporate and daily rental fleets has also added pressure to the already-soft retail volume, which may in turn be a strain on automakers' production plans. 
All major automakers - including General Motors Corp, Ford and Chrysler LLC - had significantly scaled back production of vehicles during the first quarter in the face of falling demand. 
US automakers were expected to provide targeted production figures for the second quarter on Tuesday. "We expect GM and Ford to underperform the industry in February," Michaeli said. "Continued anemic sales leave already decimated production schedules vulnerable to further cuts."
The sales results for February are likely to show just how badly GM and smaller U.S. rival Chrysler need the additional $22.6 billion federal aid they have requested.
KeyBanc Capital Markets analyst Brett Hoselton expects year-over-year sales declines at GM, Ford and Chrysler in the range of 40 to 50 per cent.
Japanese carmakers Toyota Motor Corp, Honda Motor Co and Nissan Motor Co could see sales declines in the 30 to 40 per cent range, he added.
Hoselton said the tight credit markets for autos were still a major problem for car dealers. "Although better than fourth quarter of 2008, it is still materially worse than a year ago," he said.
The median forecast of 34 economists surveyed for Reuters is for an annualized sales rate of 9.4 million cars and light trucks for February, significantly lower than the 15.3 million rate in the same period last year.
Follow Emirates 24|7 on Google News.
Auto sales likely hovered around 27-year lows in February as consumers mostly stayed away from buying big-ticket items, spooked by job losses, the deep recession and tight credit. Major automakers are scheduled to announce February sales results on Tuesday.