Flydubai to debut with India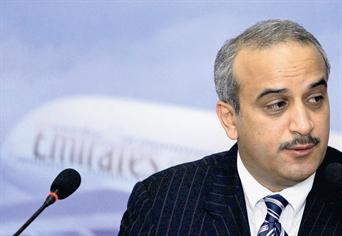 Dubai's first budget carrier, flydubai, is on schedule for take-off to five Indian destinations in the second quarter, subject to the availability of aircraft.

The airline has not received any of its aircraft so far, according to flydubai's top executive.

"No aircraft has arrived yet but we are on schedule to launch the airline," Chief Executive Ghaith Al Ghaith told Emirates Business, without divulging aircraft delivery dates.

"We will soon be making an announcement about the airline's launch. All I can say for now is it is on track," he said.

The budget carrier, assisted in its initial stages by Emirates, has 54 Boeing 737-800s on order, worth $4 billion (Dh14.6bn). It ordered 50 planes from Boeing and four from leasing company Babcock and Brown during the Farnborough International Airshow in July last year.

Al Ghaith said last month that the airline's first aircraft was supposed to be delivered by April, and operations expected to begin two weeks later.

But Boeing's 58-day machinist strike, which ended in October last year, has raised concerns about delivery delays for flydubai. The airline said in November that it was in talks with Boeing to understand the breadth of the delay.

If all goes well, the airline will start operations with five aircraft scheduled for delivery in its first year of operations, to five Indian destinations, including Pune, Chandigarh, Amritsar, Jaipur and Goa, said an airline source. The issue of flydubai's Air Operations Certificate (AOC) is "in progress", said a General Civil Aviation Authority executive.

"It takes about six months to a year to issue an AOC."

With an aim of serving destinations within four hours of flying distance from Dubai, such as India, Pakistan, Eastern Europe and parts of Africa, flydubai plans to serve about 70 destinations by 2014.
Follow Emirates 24|7 on Google News.