Freight rates to see recovery this year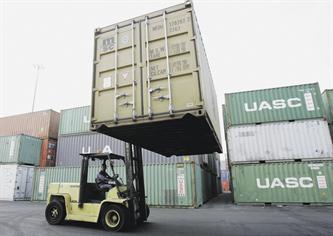 Of late, a rebound in global container freight rates has been observed on different shipping routes. Spot rates and earnings for crude oil carriers have also been up over the past few months. Conditions in the very large crude carriers (VLCC) market have been improving, with the VLCC spot earnings on the Middle East-Japan route being relatively bullish in recent weeks.

Does it any way mean that the worst is over for the shipping industry and carriers can look forward to better days ahead? What will be the trajectory of freight rates, both for containers and bulk carriers? Is raising rates a demand-driven phenomenon or is it only a last-ditch effort by charterers to recover a part of their losses?

Emirates Business asked experts to gauge the outlook of the global shipping business. The paper put forth five questions each to them: Freight rates are seeing a recovery on major shipping routes. Do you believe raising rates by shipping lines this time could delay recovery in container shipment; do you expect freight rates to go up further; do you believe the recovery is in sight for shipping business this year; do you expect hull insurance premium to go up, especially due to a surge in piracy off the coast of Somalia and the Indian Ocean; and what are the challenges confronting shipping lines in the Gulf? Are they any different from the global shipping lines? Here is what they had to say.

Lars Oestergaard Nielsen, Managing Director, Maersk Line, UAE, Qatar and Oman.

There is a clear need for the container shipping industry to raise rates. Most, if not all, shipping lines came out of 2009 with very significant loses that are not sustainable. Container shipping rates are coming from historically low levels in the past years that certainly leaves room for increases.

Yes, we do believe that rates will increase during 2010. The current freight rate levels are not sustainable.

2010 will hopefully be a better year compared to 2009 but there is still a long way to go before we can claim full recovery. The expected supply and demand situation is, however, starting to improve. A large number of new buildings are being postponed and an increasing number of services are being run with "super slow steaming".

Insurance companies are commercial enterprises and thus they are likely to seek increases. Unfortunately it seems that pirates are still having some success indicating that the multi-national naval task force is lacking resources to adequately secure the Gulf of Oman as well as the East Coast of Africa, including the Seychelles.

The main challenge seen from our perspective is similar and that is the issue of rates being too low to sustain investments in the industry. Furthermore when looking into the future we could face a situation where the trade balance will start to shift. Traditionally we have seen import volume in excess of export but as a number of large industrial manufactures increase their output in the coming years we will likely see the gap narrowing.

Per Wistoft, CEO, Gulf Navigation Holding

Absolutely, for 2010, I believe tanker rates to go up. If we look at the forecast for the crude oil consumption globally this year, there is a healthy growth for 2010, compared with 2009, of almost two per cent. And that is why the tanker market would see growth this year. The two per cent increase is equivalent to approximately 1.6 million barrels of extra consumption of oil every day. If we multiply that to VLCCs, that amounts to about 35 VLCCs that the market would need additionally in 2010 compared to 2009.

This increase in demand is just from oil consumption alone. If we take into consideration ships that can carry oil over long distances, this is also expected to trigger much bigger demand for bulk tankers this year.

Rates for Suezmax are also expected to be in the same range as the VLCCs. As regards chemical tankers, they are a little bit different because there is a less speculation in this particular segment. As a result, the rates do not fluctuate as much as they do in case of oil tankers. Secondly, contracts for chemical tankers are made for longer period that keeps the market a lot more stable than crude tankers.

I don't expect the hull insurance premium to go up. Shipping lines have many insurance covers to choose from and what a shipping firm can do is buy a particular insurance cover for sailing through a piracy-infected area. It is expensive, because a ship has to pay extra for having the particular insurance cover against piracy. However, this particular insurance provides cover for the time a ship loses and for any ransom that needs to be paid.

The big challenge for many shipping firms in 2010 will be access to finance. Many banks are reluctant to lend out money, but that is the case not only with shipping business but other industries too. Piracy is another issue that needs to be attended on a worldwide level and there is a need to get proper legislation done.
I believe recovery is in sight for shipping business this year. This is predominantly because a lot of shipping firms had placed orders for new buildings scheduled for delivery this year and the next couple of years. However, many of these orders are being cancelled because of the difficulties in arranging finance. A lot of firms are in negotiations with shipyards to delay the delivery, while some are converting their ships into different classes of ships. For instance, many tanker ships are being converted into dry cargo ships or drilling rigs and other ships. People have also been forced to sell their ships at a very low price.

Additionally, price of new ships has also dropped significantly. For example, a medium-sized product tanker of DWT 50,000 would cost $50 million (Dh183.5m) to $55 million a year and a half ago. The same ship today is available for $32m, declining almost by 40 per cent in value.

Shankar Subramoniam, General Manager, Clarion Shipping, UAE
There have been some increases in the freight rates mainly to cover some losses but lot more has to be done to restore them. The rate factor is not in line and the shipping business will be in further trouble.

Recovery has lot to do with economic situation and the slowness in supply chain. Supply chain cycle has changed drastically resulting in slowness. In the current condition it is very important that the demand versus supply forecasting has to be good. Heavy increase in the capacity and low freight, less volume has put pressure on the pricing and cost management.

The key to success is some sort of consortium and agreements among shipping lines on the restoration of rates and maintaining a long term strategy regarding the industry.

Freight rates will go further, may be in the third and fourth quarter, to make breakeven for the shipping industry that is losing heavily these days. In order to sustain the operation there has to be increase in volume and improvements in rates. The effect of shipping rates increase affects only some products as major products have some margin absorb.

The charges put up by various services provided apart from shipping line, are to be relooked as these costs have great impact on trade.

If there is trend of increasing spending in the economy and if there are improvements in supply chain for certain products, only then the recovery in shipping business is possible.

A revival in the construction industry will determine the future of shipping business. Moreover, there have to some drastic changes in the trade policy, government approach, etc.

The hull insurance premium will go up and piracy will be another worrying factor for the shipping industry in the coming years.

The piracy and its threat will slow down movement and create shortages and increase in price for essential commodities.

The major challenges facing shipping industry are overcapacity, newbuilds coming into the business, piracy threat and disturbances in the region (thus restricting movements), high credit requirement in the market for freight, restoration of construction and infrastructure projects, commodity and automobile industry recovery.

Unless these situations improve, it will be difficult for the shipping industry to grow at a faster pace. The challenge is how to survive and keep paying your staff and cost. The challenge is also how long you can hold on and how much you can afford to loose.

Finally, I feel there has to be some major changes in the minds of the people who are driving the industry. There has to be professional new blood required in the industry in changing the way of doing business.

Professor Asaf Ashar, Director, National Ports and Waterways Institute, University of New Orleans

I believe freight rates will increase. But they will rise until there is some stability in the market. However, I don't believe increase in freight rates would delay recovery in container shipment. The rise in freight rates won't affect sea trade much because freight rates of container shipping don't affect much the final prices of the products. I also believe demand will not be affected by this stabilisation of freight rates.

Rates across the trans-Pacific, Asia or Europe routes are significantly low and shipping lines are in bad shapes. When ships were laid up, there was such a wild competition that everybody was reducing rates and everybody was losing.

The total losses of the world's shipping lines amounted to approximately $20bn last year and the rates were unsustainable. Then, shipping lines realised that if they continued in the same way everybody would be dead. That's why they decided to raise freight rates.

But this increase is very little now.

I don't believe recovery is in sight this year, and the bad patch will probably last for one more year. Globally, we have about 11.3 per cent of ships lying idle, and there is some kind of shake up in the industry. Hull insurance won't go up for container line. However, for bulk ships, especially for crude oil, they may go up. This is primarily because container ships are much faster and manoeuvrable than bulk ships, which are much slower.

I believe challenges are more or less the same for every shipping line. However, regional shipping lines have the advantage of focusing on the Gulf and the Middle East market, which is doing better than the global economy.

Regional shipping lines are better placed as they serve a niche market and do not compete directly with big vessels in the trans-Pacific or Asia or Europe trade lanes. So I expect them to survive.
Keep up with the latest business news from the region with the Emirates Business 24|7 daily newsletter. To subscribe to the newsletter, please click here.
Follow Emirates 24|7 on Google News.