From the desert sands rose the commercial hub of the Arab World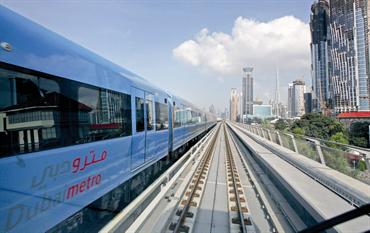 Just like any other successful businessman or public figure, Dubai did start from humble beginnings. Before the pictures of skyscrapers and futuristic infrastructures were an image of a lowly sandy desert.

Then in 1954, the Ruler of Dubai and father of His Highness Sheikh Mohammed bin Rashid Al Maktoum, Vice-President and Prime Minister of the UAE and Ruler of Dubai borrowed £400,000 (Dh2.34 million) from Kuwait to clear the Dubai Creek and create the port that would become the basis of its now famous economy.

In the late 1970s construction of the port at Jebel Ali began. With limited commerce and Dubai not being known in the global trade, people questioned the economic feasibility of the port.

Today it is the largest man-made harbour in the world and the biggest port in the Middle East. The area is also home to more than 5,000 companies from 120 countries.

In 1985, the Jebel Ali Free Zone, an industrial area surrounding the port, was established. International companies were lured there by exemptions from corporate and personal income taxes, import and export duties, the absence of restrictions on the movement of funds and easy recruitment of labor.

As trade began to blossom, people started to flock to the emirate. Emirates airlines was conceived in March 1985.

It was required to operate independent of government subsidies, apart from $10m in start-up capital.

The airline was headed by Sheikh Ahmed bin Saeed Al Maktoum, the current Emirates Group's Chairman. In the years following its foundation, the airline expanded both its fleet and its destinations and in October 2008, Emirates moved all operations at Dubai International Airport to Terminal 3, a new terminal dedicated to Emirates.

"There are certainly some dependence on some products such as oil, oil-related products but Dubai has really done something that is unique and it is now being tried to be replicated in the regional markets.

"When I first came here in 1990, Dubai had five hotels and no real tourism destination," said Edwin Fuller, President and Managing Director of International Lodging for Marriott International. "Dubai, through Emirates efforts to some extent, has been able to bring leisure to the market. So Dubai has done phenomenal job in creating new businesses."

"You also have the new education centres – the medical centres and all the other centres of excellence and those, quite frankly are unique environment. You don't find that throughout the world. It's very special."

Dubai has already become the world's sixth biggest aviation hub, overtaking Singapore's Changi last year, according to the Airports Council International (ACI). And it is now on its way to becoming the world's fourth biggest aviation hub after Hong Kong, London Heathrow and Beijing, as per Airbus latest projections.

Dubai Airports, the operating company created to manage Dubai International Airport and Dubai World Central Al Maktoum International Airport (DWC-AMI), expects to register 8.28 per cent growth in passenger traffic to 40.5 million this year, up from 37.44 million last year.

Paul Griffiths, Dubai Airport's Chief Executive said despite the global economic conditions, passenger traffic would grow 13.6 per cent next year to 46 million because by then DWC-AMI will also become operational.

Dubai aviation sector's expansion plans remain unabated by the crisis. The first phase of the Dubai World Central project is due to be fully completed and launched in June 2010, including the Phase 1 completion of Al Maktoum International airport, with a capacity to serve five to seven million passengers per year and more than 600,000 tonnes of annual cargo handling capacity.

Once fully operational, Dubai Logistics City which is ready and has clients operating out of the facility as well as the Aviation City will be surrounding the Al Maktoum International airport as a specialised free zone focused on the logistics, cargo and aviation-related industries.

To complement the growth brought about by Dubai ports and aviation activities, the emirate has intensified its road and railroad development programmes.

"I've been looking at office space and I've commented on the new rail system. I am a proponent of what has been done in Dubai," said Fuller.

Dubai Metro, the exciting and new mode of transport, was launched on the September 9, at a time when the global economy was still reeling from the crisis.

The multi-billion project is expected to create a new wave of economic development in the emirate and boost the economy further in the years to come.

Not only will the new system be able to reduce traffic congestion and increase the use of public transport, the Dubai Metro will boost the emirate's business competitiveness as businesses and commercial centres alike will be more easily accessible.

Dubai Metro is expected to ease Dubai's serious traffic congestion, which is costing the emirate about $1.2 billion (Dh4.6bn) a year and reduce the number of road accidents, which is one of the highest causes of fatalities in the UAE.

"The project will reduce the traffic congestion, ease and speed up the passengers' movement between different areas and cut transactions costs. All these results will boost the productivity," Hani Al Hamli, Secretary-General of Dubai Economic Council (DEC), said.

So far, completion stage on the Green Line of Dubai Metro ranges from 50 per cent to 80 per cent, Mattar Al Tayer, said Chairman of the Board and Executive Director of the Dubai Roads & Transport Authority (RTA).

He said the project, running on schedule, will start the operation in the second half of 2010. To date, Dubai Metro's Red Line has already lifted nearly six million passengers from its launch.

Prior to the launch of Dubai Metro, there were nine million individual trips recorded daily with only six per cent of the population using the mass transport system.

Dubai is aiming at increasing this figure to 30 per cent by 2020. Seventeen per cent is expected to come from Metro usage while the remaining will be divided to buses and maritime taxis/buses.

"Admittedly, the number of trips will double in 2020 but the 30 per cent target will definitely help in easing traffic congestion," said Abdul Mohsin Ibrahim Younes, CEO of Strategy and Corporate Governance.

Essa Aldosary, CEO of Public Transportation, RTA, said under the fish bone concept, Dubai should be well served by an integrated public transportation system.

Aldosary said everyday, 60,000 to 70,000 cars travel on Dubai roads.

"How will Dubai continue to look like with those number of cars?"

He said 90 per cent of Dubai's urban and semi-urban areas would be covered by a total of 2,000 buses by the end of next year. The maritime public transport, which carried 20,000 passengers per day will also increase its capacity.

To power all the needs of Dubai's businesses and households, the emirate has embarked on a massive power and water expansion plans. According to ProLeads, Dubai Electricity and Water Authority has ongoing and planned projects worth more than $20bn to date. These projects, said Saeed Mohammed Ahmad Al Tayer, Chief Executive and Managing Director of Dewa, are due for completion in the next three years.

All these projects, he added, have "no problem" in funding.

Demand for electricity and water in Dubai will continue to grow, albeit at slower level compared to last year's. Dubai's electricity demand last year grew by 15 per cent while water demand increased by 12 per cent.

For this reason, the state-owned entity would also continue all its expansion plans.

Al Tayer said all their projects are on going and on track as per their original schedules, except for the bidding of the Hassyan power and desalination plant which will be deferred until September next year.

Due to all these infrastructure projects, International Monetary Fund hailed Dubai in its recent visit in the emirate.

"Growth in the emirate will be positive next year thanks to the impacts of recent policy responses such as the liquidity injection, government guarantees and boost in public infrastructure spending," said Dr Masood Ahmed, IMF's Director for Middle East and Central Asia Department.

Due to countercyclical monetary measures, the emirate has rode the wave of recession. Dubai's government earlier this year announced a 42 per cent increase in spending for 2009 and is forecasting a budget deficit. Leading economists believe this is the right policy response, as government spending is needed to pick up the slack from the economic slowdown.

The spending increases will be allocated to infrastructure, transportation, and social services. Infrastructure spending will see a 33 per cent increase over 2008. The largest portion of the overall budget, 45 per cent, will be allocated to road and transportation, Dubai municipality, and port projects.

Dubai projected a fiscal deficit of Dh4.2bn or 1.3 of the emirate's GDP but is hoping to return to no deficit state by next year.

The budget projects government revenues of Dh33.5bn and expenditures of Dh37.7bn.

When government-controlled entities are also included, total revenues reach Dh138bn, two per cent higher than 2008, and total expenditure reaches Dh135bn, 9.2 per cent higher than 2008.


Key role of infrastructure

Core infrastructure including transportation, water supply, wastewater treatment, and power facilities is the foundation for sustainable development of economy.

A low level of infrastructure spending suggests that a country is on a long-term path of decline, said Dr Nasser Saidi, DIFC chief economist.

"It jeopardises current productive capacity and implies neglect of future requirements," he said.

"Investment spending is a fundamental driver of the business cycle. Launch of a massive infrastructure plan is strongly advocated as a powerful countercyclical measure to lift the world from the current slump."

However, spending on infrastructure is not a panacea.

He said the experience of the 1990s in Japan indicates that in the absence of a rigorous cost-benefit analysis public funds can be easily wasted.

Public investments, both "soft" and physical infrastructure, increase the competitiveness of an economy.

This in turn sets in motion a virtuous circle because higher productivity and competitiveness translate into higher incomes and government revenues and in turn more public investment in a mutually reinforcing pattern as has been the case of China over the past two decades.

In the process other positive spill-over effects are felt in the form of higher private sector investment, learning-by-doing effects, efficiency gains in companies, human capital improvement, research and development in construction techniques, technology transfers, process innovation.

"It is however arguable that the success stories of South East Asia, East Europe, Brazil, China and the GCC can be attributed more to public investment than to exports," said Saidi.
Keep up with the latest business news from the region with the Emirates Business 24|7 daily newsletter. To subscribe to the newsletter, please click here.
Follow Emirates 24|7 on Google News.