GCC to invest $55bn in roads and airports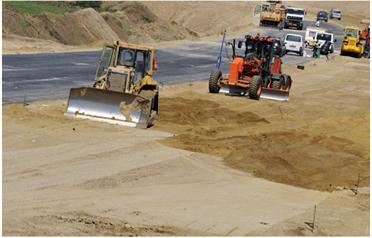 The UAE and other Gulf oil producers are expected to pump more than $55 billion (Dh202bn) into road and airport projects within the next 10 years to expand capacity and meet a surge in demand, a Kuwaiti financial firm said yesterday.

The investments do not include the planned $25bn train that will link the six Gulf Co-operation Council (GCC) countries in the region's first cross-border rail network, the bids for which could be issued in the first quarter of 2010.

According to Markaz Financial Centre, the road projects are required to meet the rapid growth in the GCC's population and the sharp increase in vehicles, which it said had led to clogged roads across some of the major cities in the region.

Markaz said although the quality of roads in the six countries has been significantly better than those in most of the other emerging economies, there is a concern over the current capacity.

"Currently, the majority of the GCC countries rank high in the order for the highest traffic density as indicated by the number of automobiles per kilometre of road and also in terms of highest number of fatalities," it said in a study. "Conversely, the region ranks low on a comparative scale in the road density as indicated by the aggregate kilometers of road to the total area of the country. This has led to huge number of road projects that are currently being planned across the GCC. The total amount of planned investments in the road segment in the GCC is expected to be at $10bn over the next 10 years."

The study said most of the GCC nations are also looking at alternative forms of transportation to ease the stress on the roads.

It said Dubai has spearheaded the GCC countries in unveiling its Metro project. Kuwait and Saudi Arabia are planning their versions of the metro.

The report gave no details of the planned Gulf train, but a senior GCC official reportedly said the contract could cost about $25bn and bids for the project could be issued in the first quarter of this year.

The 2,117-kilometre railway will be built in Kuwait and transit Saudi Arabia, Bahrain, Qatar, the UAE and Oman, said Mohammed bin Obaid Al Mazroui, the GCC's Assistant Secretary General for Economic Affairs.
Keep up with the latest business news from the region with the Emirates Business 24|7 daily newsletter. To subscribe to the newsletter, please click here
Follow Emirates 24|7 on Google News.