German car scrapping bonus revs up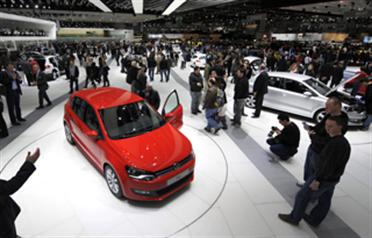 A German bonus for scrapping old cars to boost the auto market has lit a fire under domestic sales, with just a few voices dissenting amid general acclaim for the result. "So far it can be considered a success," Economy Ministry spokesman Felix Probst told AFP last week after 150,000 applications had been received for a programme that offers 2,500 euros (3,200 dollars) for trading in a car at least nine years old.
Buyers must choose a car that is less than a year old, with the government ready to dole out €1.5 billion - enough for 600,000 autos - as part of a general economic stimulus plan worth 80 billion euros. German car sales jumped 21.5 per cent in February as a result, "the strongest level of February sales in 10 years," according to Matthias Wissmann, head of the German VDA federation of auto manufacturers.
Auto exports meanwhile collapsed, losing 51 per cent in the same month to make the home market figures all the more welcome. Probst said applications for the bonus were still pouring in and with one quarter of the total already taken, the programme "might be finished well before the end of the year," its scheduled deadline.
VDA spokesman Eckhardt Rotter noted that a lower tax rate on cars that polluted less would kick in in July and said: "We hope in the second half of the year there will be a slow increase in the market." His comments came after a French auto boss warned that such plans, which have also been introduced in France and Italy, can cut both ways.
Peugeot-Citroen boss Christian Streiff told the German Sueddeutsche Zeitung newspaper that such incentives were a "dangerous tool" because "times will not be easy" when they ran out. Streiff conceded, however, that "scrapping premiums are useful for stabilising markets."
Gernot Nerb, chief economist at the German Ifo research institute told AFP: "The idea is to have a bridge because demand is particularly weak this year." Probst said the auto sector "has been hit harder than any other sector in the German economy," Europe's biggest, by the global economic downturn.
Metzler Bank auto analyst Juergen Pieper approved of the bonus because it boosted "the liquidity of dealers and carmakers and suppliers." "In contrast to some other government incentives in other regions it does not give Germans an advantage over others," he noted.
The Italian plan has been accused of favouring domestic brands, while French loans to its carmakers have prompted allegations of protectionism because they cannot fire French workers or close French plants.
There are also a few critics of the German programme. The German Retail Federation (HDE) is opposed because its members, which include supermarkets, furniture stores and fashion retailers are not afforded the same treatment. "They are at a disadvantage because the state has redirected consumption towards automobiles though the wreckage bonus," HDE spokesman Hubertus Pellengahr told AFP. "When people take advantage of the premium to buy a car they might decide not to buy new furniture or a new kitchen or something else," he argued. January retail sales fell 0.6 per cent when cars were excluded but climbed 1.4 per cent otherwise, Ifo economist Nerb noted.
Rolf Kroker, a senior economist at the IW research institute in Cologne said the HDE arguments "are partly right of course," but added that the economy, which is expected to contract 2.0-2.5 per cent this year, needed the auto plan's short-term boost. At the same time, "it would be better to reduce overall taxation to increase the growth potential of the economy," Kroker said, while conceding that "we need both," short- and long-term incentives. The Association of German Taxpayers' head Karl Heinz Daeke has called the measures "a smokescreen to distract from (the absence of) true tax relief."
Some of the stiffest opposition to what many call the "environmental premium" because it also aims to replace older cars with newer ones that pollute less, comes from German ecologists. Greens spokesman Christoph Schmitz said automakers have long known the public wanted cars that polluted less and charged: "This is just a bonus for their failure in the past." The plan did not favour the most environmentally friendly autos and proposals that it should do so did not get a hearing, Schmitz said. "There is probably not a net benefit for the environment but a greater impact on the environment," he said.
WHAT DO YOU THINK?  Is increased auto sales having a negative impact on retail? Have your say by posting a comment below, or emailing us at online@business24-7.ae.
Follow Emirates 24|7 on Google News.