GM's suppliers face increasing default risk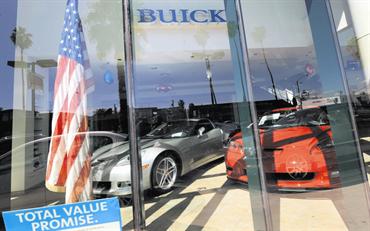 Dozens of automotive suppliers could lose their credit lines or end up in loan default because auditors voiced "substantial doubt" about General Motors' ability to stay afloat, industry observers warned.

The impact would likely be felt across the industry because the supply base is so highly integrated.

"People see the sign and don't realise the extent everyone in the industry shares the same supplier base," said Bob Carter, Toyota Motor Sales Vice-President.

The auditor's warning came as no surprise given that GM is currently funding its operation with the help of $13.4 billion (Dh49.22bn) in emergency government loans and has asked for another $22.6bn in aid. But it could be enough to trigger similar warnings by auditors at GM's suppliers, said Neil DeKoker, President of the Detroit-based Original Equipment Suppliers Association (OESA).

An adverse auditor's opinion usually breaches the covenants of most loan agreements, which could seriously hurt many cash-strapped suppliers.

"If the bank wants to get you off their books, they can use it against you," DeKoker said in an interview. "There are a lot of banks that don't want anything to do with automotive," he added.

Suppliers have already seen their revenues collapse as automakers slashed production amid a deepening economic crisis.

The OESA and another major trade organisation asked the US Treasury for $25.5bn in emergency aid last month. They warned in their submission that as many as one million jobs could be lost should the supplier base not be supported.

Some 40 major suppliers filed for bankruptcy protection last year, and scores more are at risk of collapse.

DeKoker said the Treasury is taking the request very seriously and interviewing "an awful lot of people". "They're being cautious. They don't want to make the same mistakes they did with the banks," he said, warning that time is running out. "We don't want suppliers going out of business because they can't get enough credit."

Some suppliers could end up turning to automakers for support, noted Alicia Masse, a partner in Detroit-based consulting firm BBK.

That could put a great deal of pressure on Ford, which has so far managed to survive the downturn without accessing government aid.

"If the [suppliers'] cash flow has diminished and there are no other cash sources, they will need to request support from their customer, Ford, and that will add cash pressures to Ford as well as operational risk as the companies need cash to continue to produce parts," Masse said.

Meanwhile, several major suppliers reported they are feeling the pinch from the industry crisis. Lear Corp warned that its outside auditors are likely to qualify its annual report with an opinion expressing doubt about its ability to continue as a going concern.

United States Steel Corp announced it was curbing production in the face of slumping demand for cars. Two major suppliers – Visteon and American Axle & Manufacturing Holdings – are now at risk of being delisted from the New York Stock Exchange. BorgWarner, one of the most successful suppliers, announced the temporary suspension of the company's 12-cent-per-share quarterly dividend.

US auto sales extended their downward spiral in February, falling 41 per cent to the lowest rate since December 1981, and analysts forecast it could be months before sales improve.

"We are in an automotive depression that is being exacerbated by 'The Great Recession', as shell-shocked consumers, fearful for their jobs, the value of their homes and stock market assets, are wary of making the sizeable discretionary investment in purchasing new vehicles," Standard & Poor's Equity Research analyst Efraim Levy wrote in a research note after sales data was released on Tuesday.
Follow Emirates 24|7 on Google News.