Industry needs to focus on quality of service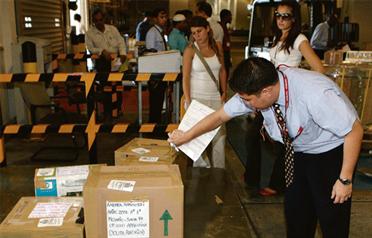 If there is any lesson the logistics industry in the Gulf, particularly in the UAE, has learnt from the economic slowdown, it is putting more focus on quality of service than just going on expanding capacity, said an analyst of a top consulting firm.
"If this downturn has taught us one thing, it is that the industry needs to focus attention away from investing in capacity and on investing in quality. A high quality of service, with a focus on streamlining customers' operating costs, will ensure loyalty and help service providers ride out the downturn better. It will also position them for more sustainable growth in the medium to long term," Gautam Bellur, Associate Partner, Oliver Wyman, Dubai, a global management consulting firm, told Emirates Business.
He said in order to successfully capture new opportunities and navigate the next phase of growth, logistics providers need to refocus their business models on creating greater value for clients. "The challenge will be to enhance customer focus and drive costs lower while still growing strategic capacity, all within the context of increased competitive pressures in the region," he said.
The increased competition is both a threat as well as an opportunity, Bellur said when asked whether competition from global logistics players poses a challenge or generates an opportunity for local logistics players in the UAE and the GCC.
"Global players bring tremendous know-how in terms of processes, systems and technologies. In addition, they also bring an established global network that allows them to make inroads into customers" he said.
On the other hand, the regional players are more established and typically have greater knowledge of local requirements and regulations. They are also investing heavily in expanding their global network. This allows them to compete more effectively with the global players, Bellur said.
He said growth prospects for logistics and supply chain solutions in the GCC are still strong relative to more mature economies in Europe and North America.
However, he said the industry is still in a relatively early stage of development in the region, and has some way to go to mature fully.
Asked on the major trends impacting the development of the UAE's and the GCC's logistics industry, he said the demand side has been driven by a combination of strong consumption as well as investment growth.
"GCC governments have made significant investments in logistics infrastructure in recent years, and this in turn has led to significant investments in capacity from both established regional players as well as international players.
"We have also seen a greater willingness by companies, particularly in the industrial and construction sectors, to outsource non-core logistics activities to third parties. The rapid economic expansion through 2008 meant that companies were unable to keep up with their own logistics requirements and entered into partnerships with 3PLs [third-party logistics] and other service providers to help meet demand," he said.
Bellur said one of the emerging trends noticeable in the UAE's and the GCC's supply chain sector is greater customer sophistication.
"Customers expect 3PLs to provide greater value at the same cost. A one-size-fits-all model is no longer sufficient. It will be less about having warehouse space and more about how well the services are tailored to meet the overall needs of specific customer groups. I would expect a move in the direction of more niche solutions for unique customer requirements," he said.
Additionally, Bellur said, an expanding local industrial base across the GCC countries, particularly in petrochemicals and other manufacturing industries, will provide greater opportunities to provide comprehensive supply chain solutions.
"Companies that have been forced to tighten their belts during the downturn are looking at outsourcing non-core activities business. This will help accelerate the opportunities for 3PL and supply chain solutions providers. Looking further into the future, the potential development of freight rail in the GCC will be an important enabler of both growth and efficiency in the sector," Bellur said.
Keep up with the latest business news from the region with the Emirates Business 24|7 daily newsletter. To subscribe to the newsletter, please click here.
Follow Emirates 24|7 on Google News.