Jafza takes green path to US debut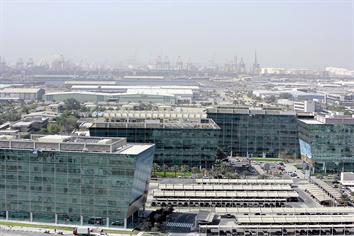 The planning of Dubai-based Jafza International's first foray into the North American warehouse and logistics park market is beginning to take a decidedly green turn in the wake of its parent company's acquisition of Gazeley UK Limited last year.

The $600 million (Dh2.2 billion) project is to be located on 1,324 acres in Orangeburg, South Carolina, a site about midway between New York and Miami, Florida, and 112km inland from the port of Charleston.

It was initially hailed by local government officials as an unexpected windfall that could ultimately bring thousands of jobs to an economically depressed region in the Southeastern United States. But the purchase of Gazeley by Jafza's parent company, Economic Zones World, from Asda Wal-Mart last June for a reported $450m has brought a decidedly new wrinkle to the current project and others being considered throughout the US.

Gazeley, which bills itself as a provider of "sustainable logistics space", is one of the biggest industrial developers in the United Kingdom. The company also has operations throughout Europe as well as in India, Mexico and China.

During his unveiling of Jafza's master plan for the project last autumn, Steven Eames, Vice-President of Operations for Jafza Americas, described Gazeley as a "leading developer of sustainable warehousing" that will bring "unmatched efficiencies" to the project. Among the green initiatives it has brought to other projects are the use of solar panels and wind turbines for energy production, and innovative approaches to stormwater collection.

"This project will be sustainable, in terms of its impact on the surrounding communities, it will be green, and it will be a model for us going forward," Eames said.

Rene Patey, Programme Manager at the Sustainability Institute, South Carolina, a non-profit organisation established in 1999 to promote green policies throughout the state, said there simply is not anything like what Gazeley can potentially bring to South Carolina over the two-decade build out of the Orangeburg site. "It is a spectacular innovation in terms of engaging the movement to going green," she said.

The lightest touch possible

During a trip to Gazeley's offices in London, Clint Murphy, engineering principal in charge of Jafza's US operation, met the company's consultants to discuss design specifications and sustainable development standards that can be brought to bear in South Carolina as well as future North American projects.

Murphy said Jafza is now actively engaged in developing "appropriate American standards to implement in our projects".

He said potential options culled from his visit to Gazeley's offices include employing solar panels for electrical generation, solar or thermal preheating for hot water systems, reliance use of external lighting to minimise use of electrical fixtures, use of high efficiency light fixtures, maximising the use of recycled material such as aggregate in concrete and the use of organic paint throughout the site's facilities, reliance on wind energy and bio-fuels were possible, and kinetic energy production in high traffic areas.

"The available sustainable options will vary significantly from site to site and will have to be determined on a project specific basis," Murphy said.

Speaking from London, Jonathan Fenton-Jones, global procurement and sustainability director of Gazeley, stressed integration of the firm into the Economic Zones World's family of companies is still ongoing.

"The role we play in the project will be in line with our longstanding philosophy: we approach all of our projects as if we own nothing, but are mere stewards for everything we do. In our view, wherever we work, the site was there a long time before we were, and it is going to be there a long time after we're gone. Out of respect for that belief, we want to do what we are doing with the lightest possible touch on the site," he said.

Matching the project to the client

Fenton-Jones said when it comes to employing green approaches, the real opportunities are in building to suit a particular client, rather than speculative buildings.

"With a spec building, you don't know who the client is, so you're concentrating on the foundation and the walls, and while there are opportunities there in terms of planning and materials, the real opportunities for green savings are the occupational phase, when you're talking about lighting, heating, air channelling, and taking advantage of the particulars of the climate and the like," he said. "You're talking to a client about a situation where they can amortise their capital expenses over the longer term, further increasing the appeal of going green."

Fenton-Jones said as a general rule, the company begins its design work on a site by making a full accounting of its attributes.

"The soil conditions, the drainage patters, the underground water, the rainfall patterns… all of those things matter and the way you master plan a site takes all of that into consideration," he said.

By way of example, Fenton-Jones pointed to the differences between Gazeley projects in Mexico and Northern Europe.

"They're very different, and the reason is the climates are completely different," he said. "In Mexico, you have very little rain and a lot of sunshine, you have to respond to the scarcity of rainfall and to the heat – so you see a lot of passive ventilation and geothermal technologies in those projects. In Northern Europe, you're building in a colder and wetter environment and so you're trying to capture as much ambient heat as you can"

Once in operation, Gazeley's efforts become a story about energy. On one recent project, the company installed kinetic plates at the gates facility that generate electricity whenever trucks drive over them as they move in and out. So much power is generated that the client is able to power a fleet of on-site electric vehicles. Another project includes a biomass plant operated by a third party that generates enough electricity to power not just the warehouse development, but also 31,000 adjacent dwellings.

"So we're fostering economic growth at the warehouse, while also achieving another end: providing green-generated power to a community at rates less than they would pay for off the grid," Fenton-Jones said.

Balancing growth with societal needs

Fenton-Jones said at their base all of these efforts are as much an expression of a particular philosophy of corporate responsibility as they are about sustainability.

"We're witnessing all around us what happens in the corporate sector when there is an endless drive for profits without a thought for responsibility to the larger society," he said. "What sustainability means is that society prospers over the long term, and the corporate realm grows and prospers in a complementary manner. What we've had up until now is a drive for infinite growth within finite systems. Systems that put business in conflict with society will inevitably decline."

Murphy said he came away from his meetings with Gazeley inspired by the company's passion for sustainable development.

"As we were touring their developments, including the Chatterley Valley facility, you could feel their pride and sense of accomplishment in the completed product," he said.

The £50 million (Dh266.83m) facility, located in North Staffordshire, is considered the company's flagship for sustainability, with 100 per cent of its energy supplied from renewable sources.

"My goal is to capture this same enthusiasm and sense of urgency for sustainable development and implement similar standards in our American project," Murphy said.

High hopes

Throughout South Carolina, proponents of sustainable construction are already excited about the green possibilities that the Jafza project will bring to the state.

Bin Wilcenski, Chief Operating Officer of the Home Builders Association of Greater Columbia and a member of the group's Green Building Council, said he as thrilled to hear of Gazeley's involvement in the project.

"Even as energy prices are levelling off, the environment is still an area of concern for many Americans," he said. " Individuals, families and corporations are all searching for better ways to live and work while causing little or no harm to the environment.

"The impact of green business and logistics parks in South Carolina is that environmentally conscious businesses will be able to consider moving to our state," Wilcenski. "If and when this happens, I would think that other developers and planners would also incorporate green into their projects, or potentially miss out on clients."

But Wilcenski hopes Gazeley's integration into the Economic Zones World family will have impact that extends beyond the logistics parks that are springing up around the state.

"We believe that what people learn at work, they tend to apply to their personal lives and vice versa," he said. "For example, if an employee sees his employer taking special measures to reduce their impact on the environment, it's very likely that the employee will take those values home with them."

For Patey, the fact that Eames has gone public with talk of bringing a green approach to the development of a logistics park is "particularly thrilling". "I have never heard of an industrial park being a development with a green spin to it, and it's particularly thrilling that it's so tied to logistics," she said.

That is because logistics companies were notably absent from a recent sustainability forum hosted by the University of South Carolina's Moore School of Business. Those who did have a seat at the table included Michelin and Milliken, as well as representatives from Clemson University, the University of North Carolina, Charlotte.

"A complete let down," Patey said, although she said she suspects that is because the logistics community has had little incentive to date to employ green techniques in their warehouses and operations.

"If I had to make a guess, I think Gazeley's approach to sustainable warehouse and logistic development will be widely successful and widely copied," she said. "That's because what they will be building isn't just a real estate project, they are creating an opportunity for those operating out of the park to offer green services to their customers."

Patey said by incorporating a sustainable philosophy in the creation of its Orangeburg facility and lessening its overall environmental impact, Jafza will effectively be greening the international supply chain, something that is sure to be an attractive lure for companies that want to align themselves with the green movement.

Patey also believes having an emphasis on sustainability be part of such a high profile project, not to mention one with such an international scope, will create pressure in the market for other distribution centre developers to follow suit.
Follow Emirates 24|7 on Google News.