Japan exports nearly halve as recession deepens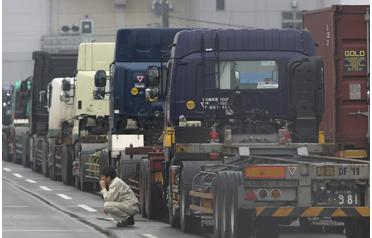 Japanese car exports fell by two-thirds from a year earlier, accelerating from a 45 per cent annual decline seen in December, as the value of overall exports hit a 10-year low.
"We don't see any signs of a pick-up in the Japanese economy in the near term. The economy will gradually worsen further," said Takeshi Minami, chief economist at Norinchukin Research Institute.
"Exports to Asia, particularly to China, are tumbling at about the same pace as shipments to the United States, signalling that even China's economy may be shrinking," Minami said.
Many factories in China and elsewhere in Asia use Japanese components to make goods that are ultimately sold in the West.
Federal Reserve Chairman Ben Bernanke warned on Monday of a prolonged recession in the United States, one of Japan's major markets, and President Barack Obama, while positive for the longer term, told Congress there were no quick fixes for the economy.
Asian countries rely heavily on manufactured exports and have been hit hard as the global financial crisis prompts Western consumers to curtail spending.
"In Asia, the world's manufacturing plant, the slump in the global economy will continue to weigh on production activities and likely to lead to a further decline in exports of semiconductors," Kyohei Morita, chief economist at Barclays Capital, said in a report.
Japan is among the worst affected with the 45.7 per cent plunge in exports in January from a year earlier, a much deeper fall than seen so far in South Korea and China.
January figures were affected by Lunar New Year holidays that closed some key Asian export markets for several days.
Japanese exports to the rest of Asia sank 46.7 per cent from a year earlier, the fourth straight month of decline, with shipments to China falling 45.1 per cent, data showed on Tuesday.
The decline in Japanese exports to other emerging markets is also accelerating. Sales to Brazil fell 38 per cent, more than six times the drop seen in December data.
Japan's economy shrank last quarter at its fastest pace since the first oil crisis of the 1970s and economists said the latest figures added to concerns that the recession was worsening.
OUTLOOK BLEAK
The collapse in global demand has left manufacturers with piles of unsold goods, forcing many leading Japanese companies to slash production at an unprecedented pace.
Japanese car makers also reported sharp falls in their output in January, with Toyota Motor Corp reporting its biggest fall in global output and with that at Nissan Motor Co Ltd slumping to the lowest level in records going back to 1984.
Japanese industrial output is expected to have fallen 10 per cent in January, a Reuters poll shows, even deeper than the record fall seen in December.
The dismal export figures point to further production cuts in the coming months as companies try to clear inventories.
"The data suggests both domestic and external demand are extremely weak. Given that automakers will cut production, we can expect significant declines in exports for the next few months," said Satoru Ogasawara, an economist at Credit Suisse in Tokyo.
"The ability to rely on external demand has deteriorated, so unless there's a pickup in domestic demand, there will be downside risks to the economy."
The deepening recession in Japan, and policy paralysis as an unpopular government struggles ahead of an election this year, are feeding a slide in the yen, which hit a three-month low of 97 yen to the dollar on Wednesday.
But the weaker yen helped the Nikkei share average gained 2.7 per cent, as did reports that the Japanese government may expand its buying of shares to purchases from the market to try to halt a slide that has taken the Nikkei near 26-year lows.
Shrinking exports pushed Japan's trade deficit to a record 952.6 billion yen ($9.82 billion; Dh36 billion), in an export-oriented country where sales of major brands from autos, technology and other manufacturing sectors have been major drivers of growth.
It was the biggest deficit since 1980, in the wake of the second Middle East oil crisis, but smaller than a forecast by economists of 1.1295 trillion yen.
The trade balance has been in the red for four straight months, the longest such sequence in Japan in nearly three decades.
The sharp deterioration has prompted big exporters to cut jobs and threatened their small suppliers, and many economists expect the economy to keep shrinking well into this year. 
Follow Emirates 24|7 on Google News.
Japan's exports nearly halved in January from a year earlier, with record slides in shipments to the United States, Europe and the rest of Asia pointing to a deepening recession across much of the world.