Jebel Ali Container Terminal 2 to be completed this month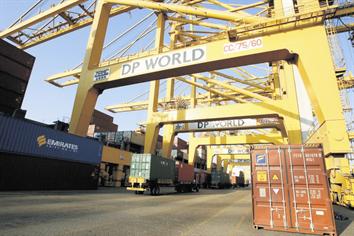 Global container terminal operator DP World will boost its handling capacity with the opening of the final phase of the Jebel Ali Container Terminal 2 at the end of this month, said a senior company official.

At its full capacity, the new terminal will add five million TEUs (twenty foot equivalent units) to the existing nine million TEUs at Jebel Ali port.

"We are opening the last phase of Terminal 2 at the end of this month and this will enhance our efficiency by ensuring faster movement of goods out of the port," said Anwar Wajdi, DP World's Senior Vice-President, Commercial and Corporate Strategy, on the sidelines of the Middle East Ports Development 2009 conference in Dubai yesterday.

The $1.5 billion (Dh5.5bn) Jebel Ali Terminal 2 project is also expected to support future trade within the GCC as 90 per cent of cargo in the region is moved through sea.

Early last year, traders complained of congestion at Jebel Ali port due to shortage of manpower and storage facilities. DP World said last year the problem had been fixed following the introduction of several new initiatives. The shifting of the entire Port Rashid container operations by the third quarter of 2008 was delayed to allow additional capacity for containers and to provide enough room for storage.

"Part of the operations at Port Rashid have been shifted, but the container terminal is still in service to help absorb part of the pressure from Jebel Ali," said Wajdi.

DP World said last week that although throughput across its network of ports had increased by 15 per cent to 48.2 million TEUs, its operations have been affected by the economic slowdown and was not sure about projections for 2009.

However, Wajdi said the current economic conditions will not prevent DP World from pursuing some of its long-term strategic goals aimed at improving capacity and efficiency at its ports.

"Being an international company, we cannot isolate ourselves from what is happening in the world. The current conditions will only change the way we look at things and but will not divert us from our long-term goals," said Wajdi.

Despite the global economic slowdown, the container shipping industry in the Middle East continues to outperform other regions. Container throughput in the region is expected to reach 28.2 million TEUs in 2011.

However, Wajdi said although Jebel Ali port will continue to grow this year, regional container throughput will decline to single digits in 2009, before rebounding in 2010.

With anticipated growth in volumes in future, Jebel Ali will consider developing its third container terminal, said Wajdi.

While DP World is still keen on entering the United States market, especially with a change in US administration and low valuations, Wajdi said any such move has to be an "intelligent" one to avoid mistakes made by others.

He said the company will continue to seek opportunities in markets where there is sufficient demand and that its expansion strategy has not changed despite the current conditions.

"We are not calling off any of our plans nor shutting down any of our operations. However, we will slow down our pace of doing things because of the slowdown everywhere," said Wajdi.

The ports company currently operates a total of 48 container terminals in 27 different countries around the world.

Wajdi said DP World's investments in ports in emerging markets has helped to minimise the company's exposure to the current global economic problems.


Djibouti terminal set to open

DP World will open its new container terminal in Doraleh, Djibouti on Saturday. The work on the terminal started in 2006 and cost $400 million (Dh1.47 billion).

The terminal, located along the Red Sea and about 12km from the old one, will have an annual capacity of 1.5 million TEUs (twenty foot equivalent units).

"The new terminal is part of our several investments in Djibouti. We believe that it will act as a hub for trans-shipments into the rest of Africa," said Wajdi.

The terminal has a quay length of 900 metres that can be extended to 1,200 metres and is able to handle giant container ships.

In 2006, DP World inaugurated a 1.5km jetty at Doraleh oil terminal following an investment of $35m.

DP World also manages the Djibouti International Airport, Djibouti Free Zone and has several hospitality investments in the African country.
Follow Emirates 24|7 on Google News.