Jebel Ali industrial bus depot 95% complete, says Al Tayer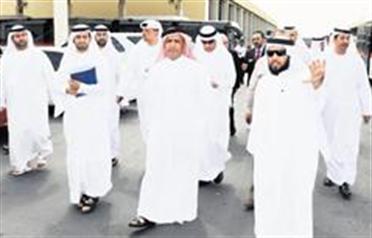 Mattar Al Tayer, Chairman of the Board and Executive Director of Roads & Transport Authority (RTA) announced yesterday that 95 per cent of construction works in Phase I of the Bus Depot Station at Jebel Ali Industrial Area have been completed.

He added the completion rate reached 25 per cent at Al Ruwiyah Bus Depot Station.

The statement was made during a tour made by Al Tayer to inspect the progress at the bus depots at Al Aweer, Al Ruwiyah and Jebel Ali. Al Tayer was accompanied by Essa Abdul Rahman Al Dosari, CEO of the RTA's Public Transport Agency and a number of departmental directors and engineers.

Al Tayer started his tour by inspecting construction of the new maintenance workshops at Al Aweer Bus Depot. The station includes a 22-bay workshop fitted with sophisticated systems and technical equipment for carrying out maintenance works, mechanical and electrical repairs and advanced measuring and testing equipment. The depot includes stores and warehouses to house spare parts as well as offices for employees and technicians. The workshop is nine-metre in height so as to accommodate double-deck buses and equipped with several jacks to lift articulated buses.

Al Tayer also inspected the Drivers Training Centre, where he directed drivers attending theoretical and practical sessions to benefit from the training exposure, and comply with traffic rules prevailing in the UAE to safeguard the lives of both passengers and road users. He also directed them to deal smartly with passengers and seek to win their satisfaction.

Al Tayer added: "RTA invested huge amounts of money in procuring new buses manufactured at the highest international specifications, and attracted instructors from various countries with advanced record in traffic safety. The whole exercise aims to provide top- class training to drivers and groom them before deploying them as bus drivers." Later, Al Tayer inspected Al Ruwiyah Bus Depot where he was briefed by Al Dosari on the progress of the project, which costs about Dh400 million. Completion of design works and substructures, comprising road networks, parking, sewage systems, maintenance workshops, bus cleaning areas are about 25 per cent complete.

Al Tayer concluded his tour by inspecting the work progress at Jebel Ali Bus Depot where construction works are in full swing and is almost 95 per cent complete. The final phase encompasses construction of an external boundary wall for the site, construction of local roads, bus parking lots, and public utility networks such as water, electricity, swage and irrigation.

The station will be capable of housing 300 buses (standard, articulated and double-decker buses). It is fitted with 24 bays to accommodate 36 buses at a time to perform works such as washing, cleaning and refuelling.
Follow Emirates 24|7 on Google News.