Long haul ships slow down their speed to battle rising fuel costs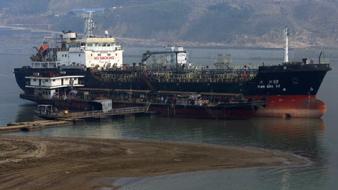 The jump in oil prices is forcing shipping companies particularly those that travel on long routes to reduce their speed on high seas and save 'bunker charges' that is the amount spent on fuel.

Senior executives of Dubai-based shipping companies said that the slowing down a ship's speed by anything in between two to three nautical miles an hour may save as much as 25 percent on fuel charges. In most of the cases the ships are found to be reducing their speed from 20 nautical miles an hour to about 17 to 18 nautical miles an hour.

Crude has been steadily rising for the past fortnight and stood at $82.52 a barrel yesterday. The steady rise in price has raised bunker charges, thus forcing ship owners to look for some non-traditional means to save shipping costs.

"Such steps are primarily being taken for cargo and container ships. And this happens mostly on long haul routes. The ships reduce their speed by two to three knots (nautical miles per hour)," said Captain Mansoor YAGhafoor, the President of National Association of Freight and Logistics, Dubai. "The reduced speed is termed an economical speed. In the end the ship that was originally destined for a 20 to 25 days journey may take one additional day because of cruising slowly."

The trend is just one of the various means that shipping companies resort to in order to save costs. When oil prices rose to their record highs in July and August 2008, some of the ships had begun putting sails on when the gales had the right velocity.

Later in January 2009, when oil prices were still high, the Hapag-Lloyd shipping company, a German container carrier, reacted to rising fuel prices by cutting the throttle on its 140 container ships travelling the world's oceans, ordering its captains to slow down. The company in the second half of last year reduced the standard speed of its ships to 20 knots from 23-1/2 knots, and said it saved a "substantial amount" of fuel.

Girish Nair, a Dubai-based Senior Commercial Manager with Cosco Shipping Company said that several shipping companies that have their office in Dubai have been resorting to the practice.

He pointed out that such means do not work in case the contract calls for delivery in a specified period of time.

"In such cases, a penalty clause may come into play if the ship reaches the port late. This is mostly the case on transatlantic routes," he said.
Keep up with the latest business news from the region with the Emirates Business 24|7 daily newsletter. To subscribe to the newsletter, please click here.
Follow Emirates 24|7 on Google News.