Maersk enhances Asia-Europe service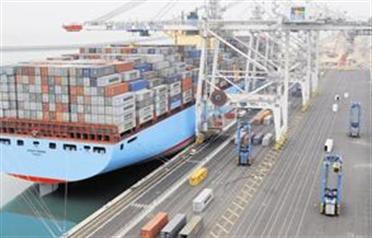 Maersk Line has announced a series of enhancements and adjustments to its Asia-Europe network.

On its AE1 service, Maersk will add Salalah and drop Singapore, facilitating eastbound service between Hamburg and Salalah.

The AE1 rotation eastbound includes Le Havre, Rotterdam, Southampton, Hamburg, Bremerhaven; Salalah, Nansha, Da Chan Bay, Ningbo, Shanghai, Kaohsiung, Yantian and Hong Kong.

The first AE1 vessel eastbound will be the Maersk Semarang on March 4 from Bremerhaven.

Maersk's AE2 service will add Hamburg and Tanjung Pelepas, providing service from Shanghai to Hamburg and Bremerhaven in just 24 and 22 days, among the fastest in the market.

It will also offer new, direct service from South Korea and North China to Hamburg, and improved Oceania coverage via Tanjung Pelepas connecting to the carrier's Boomerang service.

The AE2 rotation includes Busan, Xingang, Dalian, Qingdao, Kwangyang, Shanghai, Bremerhaven, Hamburg, Rotterdam, Felixstowe and Tanjung Pelepas.

The first AE2 sailing westbound is the Maersk Savannah on March 7 from Busan. The first AE2 vessel sailing eastbound is the Sally Maersk today from Bremerhaven.

The AE3 service will add Evyap to enhance the line's Turkey and Black Sea coverage. It will improve direct North and East China coverage to Turkey and provide one of the fastest transit times in the market from Busan to Evyap.

The new rotation includes Xingang, Dalian, Qingdao, Busan, Ningbo, Yantian, Tanjung Pelepas, Aqaba, Port Said, Evyap, Ambarli, Constanta, Illyichevsk, Port Said and Singapore. The first westbound sailing was the Maersk Drammen, February 18 from Xingang. Maersk plans to re-route the AE6 so it will sail eastbound from Europe via the Cape of Good Hope to Asia. The rotation is Yokohama, Nagoya, Shanghai, Ningbo, Hong Kong, Yantian, Tanjung Pelepas, Port Said, Barcelona, Valencia, Algeciras, Tangier, Tanjung Pelepas, Yantian and Hong Kong.

The first AE6 sailing is the Margrethe Maersk on March 6 from Barcelona.

The AE10 service will add Le Havre on the eastbound rotation, to offer direct services from Le Havre to Southeast Asia, Hong Kong and Japan. The AE10 rotation eastbound includes Felixstowe, Dunkirk, Gothenburg, Aarhus, Bremerhaven, Rotterdam, Le Havre, Singapore, Hong Kong, Kobe, Nagoya, Shimizu and Yokohama.

The first sailing eastbound ship is the Maersk Seville on March 3 from Le Havre.
Follow Emirates 24|7 on Google News.