Middle East ideal for setting up more MRO facilities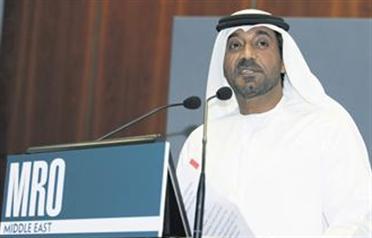 The Middle East, which has leveraged its geographical location at "the crossroads of the world" to become a vital hub in the world transport system, has to develop world-class facilities to assist airline operators, according to Sheikh Ahmed bin Saeed Al Maktoum, President of Dubai Civil Aviation Authority and Chairman of Emirates Group.

The region is expected to cater to the growing MRO (Maintenance, Repair and Overhaul) industry as it is predicted by industry experts to have the fastest 10-year annual growth rate of 8.9 per cent, in comparison with the industry's annual average of 3.6 per cent.

"With the building of Dubai World Central, we have a world-class airport with the space and commitment to allow third parties the opportunity to provide services, to bring parts, to launch repair shops and generally provide aircraft-on-ground support as well as developing the heavier maintenance facilities," Sheikh Ahmed said yesterday while delivering the keynote address at the opening of the two-day MRO Middle East Conference and Exhibition.

Highlighting the number of aircraft orders, he said at the major air shows of the past few years, "all of the big fleet announcements have come from GCC carriers such as Emirates, Etihad and Qatar Airways".

Sheikh Ahmed further said with current aircraft order books for Arab fleets totalling more than $78 billion (Dh286.53bn) at list prices, 25 per cent of the world's new passenger jets are destined for the Middle East.

"But it gets even better. The Middle East continues to be one area of the world where orders for business jets are growing," he said.

Despite this, Sheikh Ahmed pointed out, there had been a time lag in getting the support that the owners and operators needed, with many of the region's business jets having to travel to Europe for even the most routine repairs.

He said: "The airlines and business jet operators already have established MRO relationships, but there are great opportunities now to integrate and streamline airline maintenance processes and to develop new strategic relationships, while applying innovative cost reduction processes and state-of-the-art technologies."

The Middle East MRO market has shown the most rapid growth since 2003 and is expected to account for five per cent of the total spend in 2009 amounting to $2.2bn, according to David Stewart, Principal Aerostrategy. He added that the Middle East showed the highest regional MRO growth rate of 10.5 per cent per annum.


Lufthansa and Sama in TMO deal

Lufthansa Technik and Sama Airlines yesterday signed a contract for Total Material Operations (TMO).

Lufthansa Technik said according to the agreement it would provide material and engineering services for the Saudi Arabian low-cost airline's growing fleet of Boeing 737-300s during the next seven years. The services will start in March.


Jazeera MRO

Jazeera Airways plans to set up a company to carry out MRO (maintenance, repair and overhaul) functions, according to a senior executive.

The MRO facility will operate as an independent entity with Jazeera as its captive customer, said Abdulla H Al Hudaid, Vice-President Maintenance and Engineering, Jazeera Airways.

The airline is in discussions with several parties and is close to making a decision, he said, without divulging details. The airline currently invests about $1.8 billion (Dh6.61bn) in maintenance.

"The decision to set up a separate MRO company was because the main business of Jazeera is to sell tickets and operate aircraft. Setting up in-house maintenance facilities would mean a lot of investment with a constant need to update technology," Al Hudaid said.

When asked about the cost saving, he said for the first three years there will be no saving, after that there would be a saving of "at least 40 per cent".
Follow Emirates 24|7 on Google News.