Middle East passenger traffic to grow quickest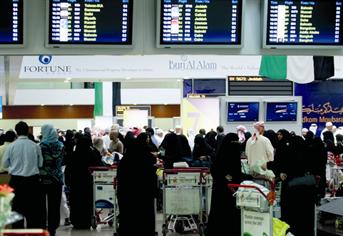 The Middle East will be the fastest-growing region in the world for passenger traffic in 2009, driven by aggressive development of some of its carriers, according to the latest report by Airports International Council (ACI).

The passenger traffic in the Middle East is expected to increase annually by six per cent until 2012, compared to 4.3 per cent for the global average, ACI said in its report Global Traffic Forecast 2008-2027. ACI is an international association of airports across the world.

Andreas Schimm, ACI Director Economics, told Emirates Business: "The Middle East has fared much better than the other regions as it still grew by over 10 per cent in 2008. The main reason is focus on international and connecting traffic. Drivers are Dubai and Abu Dhabi and their respective carriers connecting Asia and Europe and long haul to North America."

Commenting on the global financial downturn, Schimm said: "Economies in the Gulf have not been affected as heavily as other regions from the crisis yet due to ongoing massive investment in infrastructure and tourism supporting employment and GDPs."

According to ACI, the growth in travel demand to and from the Middle East in the coming few years is expected to be driven by growing local demand, boosted by tourism and ethnic ties as well as by ambitious hubbing developments.

"Airlines based in the region, in particular Emirates, Etihad Airways and Qatar Airways, have successfully exploited the opportunities for traffic development, not only serving a growing local origin-destination market but also exploiting their geographic position to develop the hub concept. Local demand, driven by economic expansion and tourism has also fuelled air transportation growth in the region," ACI said in its report.

The Middle East is further dominated by international traffic and the only domestic markets of a certain size are those in Saudi Arabia and Iran, ACI said, adding that during the forecast period domestic markets are expected to grow by 1.8 per cent while international markets will grow almost three times faster averaging 5.6 per cent.

The budget carriers seem to have given impetus to the region's traffic, according to ACI. "Recently, more low cost carriers have begun setting foot in the region and although the local population tends to prefer full service carriers, price sensitive expatriates will greatly appreciate this type of service."

"Due to its geographical position, the region is well balanced in terms of international routes and isn't overly dependent on any one route for its development."

ACI forecast pointed out that while Europe was the most important route area for international traffic in the Middle East in 2007 (31.8 per cent of total international passengers), its share is expected to decline to 27.8 per cent by 2027 as Asia/Pacific becomes the dominant market, with 34.8 per cent of total international traffic. Within the region, the UAE, Qatar and Bahrain are forecast by ACI to be the fastest growing countries.

It said that while the UAE is expected to remain the largest aviation market in the region, benefiting from a strong economy, tourism and two national carriers – Emirates and Etihad vying for local and transfer markets, Qatar and Bahrain will grow most rapidly.

"The growth in Qatar and Bahrain would be stimulated by an expanding economy and carriers (respectively Qatar Airways and to a lesser degree Gulf Air) which plan on developing their hubs," ACI said. With regards to the airports expansion plans across the region, ACI said the Gulf has been extremely proactive in adding airport capacity. "That makes it one of the few areas in the world where airport capacity should not be an issue in the short to medium term."

It added that all of the region's main airports – Dubai International, Dubai World Central's upcoming Al-Maktoum International, Abu Dhabi International and Doha – have significant capacity expansion plans.

But while airport capacity will not be a constraint, ACI warns that air space is starting to be an issue.

"If no significant improvements are made, it will most likely represent the main bottleneck in the region and could even impede traffic growth," it said.

And finally what is also intended to help the region's traffic grow is the fact that the Middle East is actively developing its tourism industry, "which, if successful, will also generate important volumes for local demand."

According to the World Travel and Tourism Council, the Middle East has seen the highest growth in tourism of all regions with experts believing the pace to continue.
Follow Emirates 24|7 on Google News.