Middle East's premium air traffic rises amid turmoil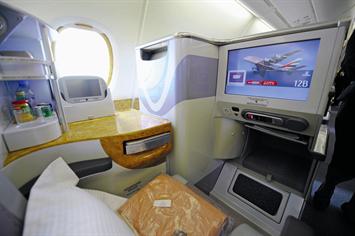 The Middle East airlines are benefiting from the global economic slowdown, winning a greater share of the fast declining global premium traffic and revenues, according to the latest report by the Centre for Asia Pacific Aviation (Capa).

In November 2008, one dollar in every eight spent on premium airfares across the world involved Middle East travel – compared to one in 12 just a few months earlier as per the report revealed.

It said the Middle East economy remains relatively strong and the region's business and first-class travel demand has held up better than others to date.

The Capa analysis of the Iata (International Air Transport Association) premium traffic reports since the middle of 2007 shows a dramatic increase recently in the Middle East's share of global premium traffic and – more importantly – revenues.

In a study released in mid-January, Iata showed that global premium traffic dropped by nearly 12 per cent in November 2008, almost double of October's rate of decline, further warning that premium revenues are falling faster than passenger numbers.

Routes linked to the Middle East now account for 12 per cent of worldwide premium revenues and slightly over 11 per cent of premium traffic numbers, Capa said.

It said prior to the onset of the global economic crisis, the Middle East accounted for eight per cent of worldwide revenue and just under nine per cent of traffic.

"Notably too, the change, where the premium revenue share has overtaken the traffic share implies that Middle East airlines are also enjoying better yields than their rivals," the report stated. "The evolution suggests the emerging Middle East sixth freedom airlines are living up to their potential to become powerful forces in global aviation, directing increasing amounts of sixth freedom and origin-destination traffic over their hubs."

Meanwhile, premium travel demand fell significantly around the world in September last year, as per Iata estimates. The aviation trade body said recently that with the total international premium traffic plummeting eight per cent in September 2008 year-on-year, even the Middle East was not spared. It recorded big falls within the region (13.8 per cent in September 2008) as well a seven per cent reduction on services to Europe.

"Further declines in volumes in the months ahead would mean premium revenues are likely to begin to decline in absolute terms," Iata warned.
Follow Emirates 24|7 on Google News.