Midex expects Dh400m revenue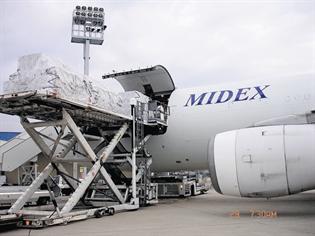 Midex Airlines Company, a UAE firm specialised in air freight, is expecting its revenues from air freight services to touch Dh400 million this year, following its robust performance in 2008.

The carrier expects volumes of goods transported to reach 55,000 tonnes, while new flights will be introduced to new destinations around the world with a concentration on Asia to support the company's aim of connecting East and West through Al Ain International Airport.

Midex Airlines, which was launched in January last year reported Dh106m in revenues for the last six months, with 233 flights, which included 166 and 57 unscheduled flights between Al Ain International Airport and Orly Airport in France. A total of 11,500 tonnes of goods were transported in the past six months. "The performance in our first year of operation was very positive due to the support we received from Abu Dhabi and Al Ain International Airports," said Al Bastaki, Director-General of Midex Airlines.

"The strategic position of Al Ain International Airport makes it a vital centre for serving importers in both Abu Dhabi and the Northern Emirates. Easy accessibility and low traffic levels work to our advantage."

He said despite the global economic situation, low jet fuel prices in the last quarter of 2008 helped the carrier maximise revenues due to increased demand for air freight services.

He said low fuel prices also helped the company reduce its operational costs. The carrier's fuel consumption was about seven million gallons with at a cost of Dh78.3m.

Al Bastaki said air freight business in the UAE will continue to perform positively due to the country's strategic location between the East and the West.

According to Al Bastaki, the current fleet of the company includes six Airbus A300B4-200Fs and one Boeing 747-200F. The planes are fully-owned by the company and each has a capacity of more than 45 tonnes. The current volume of air freight from Al Ain International Airport to Orly Airport and Dhaka and vice versa is 200 tonnes daily.
Follow Emirates 24|7 on Google News.