MIS launches third new-build offshore jack-up drilling rig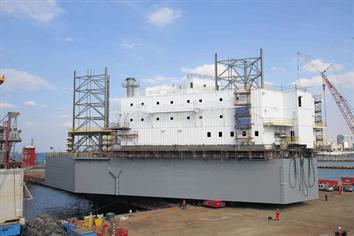 UAE-based Maritime Industrial Services Company (MIS) has successfully loaded out its third new-build offshore jack-up drilling rig, Hull 107.

Hull 107 is at an advanced state of completion and is contracted to KSAM2 Petrodrill Offshore, a joint venture company led by Singapore-based KS Energy Services Ltd, Saudi Arabia-based Amwal Al Khaleej and MIS. The rig is scheduled for delivery months ahead of its original contract delivery date of February 2010 due to the experience drawn from the first two rigs built by MIS.

Hull 107 is a Friede & Goldman Super Mod 2 design with 30,000 feet rated drilling depth and an operating water depth capability of 92 metres (300 feet).

This design is the first ever to be built and MIS engineering expertise gained on the first two rigs has also resulted in accelerating the construction process.

"Our learning curve has been steep from the time we ventured into rig building and this has started delivering results for us in terms of quality improvement," said Kevin Hudson, MIS' Group Chief Executive Officer. "We plan to maintain this strong momentum to ensure that the rig, Hull 107, is delivered well ahead of its contract delivery date and to further benefit the other rigs currently on order."

Hull 107 was loaded out at a heavier weight of 5,200 tonnes compared to 4,200 tonnes at the time of launching the previous two rigs, Hull 104 and 105, thus contributing to greater efficiency in terms of work completed while the hull was still on land.

Hull 107 now has its four modules for the living quarters already installed compared to hulls 104 and 105, which were installed post launch; 150 tonnes of steel outfitting has already been completed compared to 50 tonnes for Hull 104 and 80 per cent of the mechanical installation has been completed compared to 40 per cent on the previous rigs.

MIS currently stands with an order book of $1 billion (Dh3.67bn) and a total of seven rigs under construction at its yard in Sharjah.

The most recent orders were by Mosvold Middle East Jackup for hulls 106 and 108 and by Bahrain's MENAdrill for hulls 109 and 110. All are scheduled for delivery in 2009 and 2010.
Follow Emirates 24|7 on Google News.