Mubadala, Sikorsky in aviation venture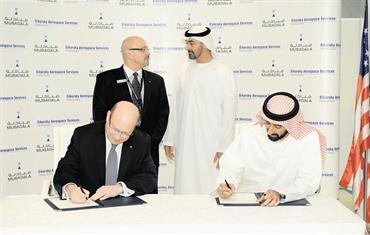 Mubadala Development Company has entered into a major aviation joint venture with Sikorsky Aerospace Services to build an aviation military maintenance, repair and overhaul (MRO) centre in Abu Dhabi.

The two sides announced signing of a heads of agreements (HOA) at Idex for the development of the joint venture. The agreement between the two parties in the presence of General Sheikh Mohammed bin Zayed Al Nahyan, Abu Dhabi Crown Prince and Deputy Supreme Commander of the UAE Armed Forces.

"Mubadala's strategy to help build a self sustaining and commercially viable support system for the UAE and regional military is in line with the global military trend of using sophisticated outsourced support services," said Waleed Al Mokarrab Al Muhairi, COO of Mubadala.

"Our partnership with Sikorsky Aerospace Services fits our commercial strategy to evolve the emirate of Abu Dhabi's existing aerospace industry into a global aerospace hub."

The new military MRO Centre will be set up in close collaboration with the General Head Quarters (GHQ) of UAE Armed Forces to support the entire spectrum of logistics maintenance capabilities for the UAE Armed Forces Fixed and Rotary wing platforms.

The centre aims to become the military's MRO centre of excellence by providing a broad scope of unique aviation capabilities from First Line, Second Line and depot level MRO services.

The centre is expected to enhance fleet readiness and meet the growing demands of the UAE Armed Forces and the regional military," said a Mubadala statement.

The centre will work with military logistic providers in the UAE to provide a streamlined support as the UAE's military continues to advance its capability.

About the Mubadala partnership, David Adler, President of Sikorsky Aerospace Services, said: "The goal of the military MRO centre of excellence is to be a one-stop shop for all logistics needs for the UAE Armed Forces.
Follow Emirates 24|7 on Google News.