New $453m Saudi terminal on track to open in October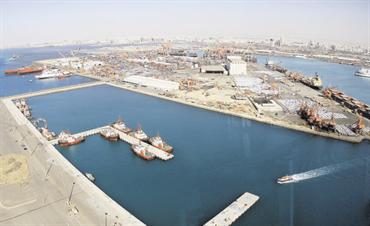 Container handling capacity at Jeddah Islamic Port will increase by 1.5 million TEUs (twenty foot equivalent units) with the opening of a new container terminal this year, said a senior executive at the port.

Construction of the $453 million (Dh1.66 billion) Red Sea Gateway Terminal is scheduled for completion this year, with operations set to commence on October 1.

The new terminal is expected to ease the problem of congestion at Jeddah Islamic Port by adding 1.5 million TEUs to the existing 3.3 million TEUs, an increase of about 45 per cent.

"All infrastructural work at the terminal is going on as scheduled and we anticipate no delays. We will commence our operations in October as planned," Lye Seng Tang, Chief Operating Officer, Red Sea Gateway Terminal, told Emirates Business.

He said the port will initially have a staff of 200, adding that the number would be increased gradually.

Red Sea Gateway Terminal will be the first grass-roots private container terminal in Saudi Arabia and will enhance the overall capability of Jeddah Islamic Port through its high container handling productivity.

Saudi Port Authority signed a BOT agreement with Tusdeer in January 2007 to develop and operate Red Sea Gateway Terminal, the third container terminal at Jeddah Islamic Port.

According to Teng, when fully operational, the Red Sea Gateway Terminal will provide a quantum leap to enable Jeddah Islamic Port to handle the next generation of oceangoing containerships of more than 12,000 TEUs in size. It will have a 1,045 metre quay with a depth alongside of 18 metres.

Last year, Red Sea Gateway Terminal had placed orders for eight modern ship-to-shore container cranes and support equipment with Zhenhua Port Machinery Limited, Shanghai, due for delivery on site in May 2009.

Tang said the deepwater terminal, together with the adjacent Tusdeer Bonded and Re-export Zone, will form a major integrated logistics hub for the Red Sea region. "The new container terminal will contribute to the Saudi land bridge by creating a fast and efficient land-based link from the Red Sea to the Gulf and boost the business activity of consignment and re-export across the kingdom, thus increasing the competitive capability of the marine transport and support system in Saudi Arabia," he said.

Tang said the customer-oriented approach to creating Jeddah's third deep sea container terminal has involved detailed consultation with shipping lines and other customers on all aspects of its design.

The Middle East is investing heavily in the expansion of ports and also creation of new terminals in order to ease the current problem of congestion and also cater for future capacity needs. The $530 newly developed Khalifa bin Salman Port in Bahrain is scheduled to commence operations in April and will provide an overall capacity of 2.5 million TEUs, acting as a transshipment hub with a focus on the upper Gulf.

The $4.4bn first phase of the Qatar port, which is currently under development in the area of Mesaieed, is on track for completion in 2014 with a new capacity of two million TEUs annually, to be increased to six million TEUs in 2030 with further expansion. Spanning an area of 20 kilometres, the project will be able to accommodate more than 12,000 containers.

At last week's Middle East Ports Development 2009 conference, Neil Davidson, Director of Ports Research at Drewry Shipping Consultants, said the financial crisis would not slow down ongoing port expansion projects in the region. Although container volume growth is forecast to slow down in the next two years, Davidson noted that current investments will make more meaning when trade rebounds in future.
Follow Emirates 24|7 on Google News.