New ship deliveries face delays as market stagnates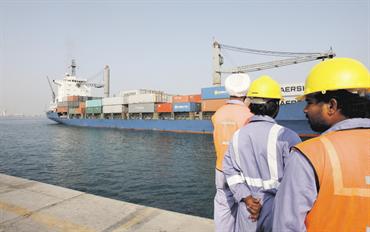 Deliveries of newbuilds scheduled for this year may not materialise as several container lines and dry bulk carriers struggle to postpone new deliveries in the face of a grim outlook for the shipping industry.

Major shipping companies with operations in the region have already delayed or are in negotiations with shipyards to delay deliveries scheduled for this year as existing fleets continue to suffer low utilisation.

"It is part of the various strategies we are employing to cut down operational costs," said Ken Bloch Soerensen, President and CEO for United Arab Shipping Company (UASC). "We are negotiating with the yards to delay a bit. We are discussing final deliveries although the plan was to have all deliveries as scheduled. It is a commitment we have with the yards, but if it is possible to delay them, we will do it."

UASC already has 10 container ships due for delivery this year, each with a capacity of 4,200 TEUs (twenty foot equivalent units), following other deliveries made in 2008. Last year, UASC placed a $1.5 billion (Dh5.51bn) order for nine 13,100 TEU vessels with Samsung Heavy Industries, the largest containership order placed by a regional company.

Although deliveries are scheduled for 2010 and 2011, Soerensen told Emirates Business that UASC is reviewing its newbuild contracts. "It is no secret that we are looking to optimise the terms. Certainly it is a long-term relationship that we build with the shipyards and hopefully they will be open to that," said Soerensen.

The company will also lay up four vessels this year each with a capacity of 4,000 TEUs in a bid to boost utilisation on its other vessels.

In a scheme meant to substantially reduce its operational costs, Neptune Orient Lines (NOL) has delayed delivery of eight to nine vessels, each with a capacity of 10,000 TEUs and all due for delivery this year. Delays will affect both newbuilds ordered by the company directly and vessels on charter contracts with other owners.

"We believe that the scheme will help to save us a lot in terms of operational costs and will help to boost demand needed to revive freight rates," Eugene Seroka, Regional Vice-President for NOL's liner arm APL in charge of Middle East and East Africa told Emirate Business. APL is a subsidiary of NOL.

APL has already laid up about 15 out of its 130 vessels in a move to save more than $200 million, as the outlook for the container shipping market remains bleak.

Although the company has made no lay ups so far on its regional network, it has reduced its capacity on the Asia-Europe trade by about 25 per cent and 20 per cent on the transpacific trade.

Regional experts say about half of all orders for containerships and bulk carriers from the region may not materialise as market conditions continue to worsen. According to industry sources, between 40 to 60 per cent of new orders for container ships and bulk carriers have already been cancelled due to failure by owners to honour their payment commitments. Also, about 5,000 vessels, with a total capacity of 800,000 TEUs are believed to be in hot and cold lay up worldwide.

Last month, China's Cosco Shipyard Group rescheduled deliveries of seven dry bulk carriers at the request of a European shipowner. The vessels – four 57,000 dwt and three 80,000 dwt bulkers – were due for delivery in December 2010.
Follow Emirates 24|7 on Google News.