No impact from single-hull phaseout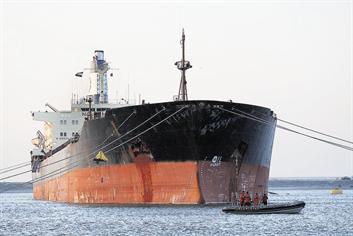 The decommissioning of single-hull tankers this year is unlikely to impact either oil tanker rates or the movement of oil from the Gulf to other parts of the world, industry players have said.

As per International Maritime Organisation's regulation, 2010 will see phasing out of single-hull tankers. This means these ships will move out of the market and thus reduce tanker supply. However, the industry believes the reduced supply of tankers will have no correlation with tanker rates, as depletion of single-hull tankers in the market will offset supply of newbuilds.

"This [phase out] will not have any effect on tanker rates as it has already been priced and factored into the market. Most charterers and tanker owners have already phased out single-hull tonnage and now their availability is really reduced as most of these ships have gone for scrap or been converted to floating storage units," Alexander Hamalton, General Manager, Middle East, Barry Rogliano Salles, a French ship broking firm, told Emirates Business.

There were many deliveries of newbuilding double-hull tankers last year that will continue this year and in 2011, which would compensate for the phasing out of single-hull tankers, Hamalton, whose firm specialises in liquid bulk (mainly crude and clean petroleum products) and specifically in brokerage of tanker chartering, said.

Last week, the Japanese shipping firm Mitsui OSK Lines also expressed a positive outlook for the tanker sector this year. "An improvement in the tanker market is anticipated due to recovery in demand for petroleum products and the withdrawal of single-hull VLCCs. In addition, the global economy is bottoming out and the container ship business is expected to see increased cargo trade and progress toward recovery of freight rates. Therefore, the company made an upward revision of its earlier announced consolidated business outlook for financial year 2009, ending March 31 this year," a company statement said.

"In the medium to long term, even with decommissioning of single-hull vessels, the tanker fleet, the combination of newbuilds and the release of floating storage back into the market will still expand capacity by 20 per cent or more in the next few years. It will take a significant and sustained uptick in demand to counter the downward pressure on rates. At the moment, it is unclear when such an uptick will materialise," Gautam Bellur, Associate Partner at Dubai-based global management consulting firm Oliver Wyman, said.

As to the liquid bulk and tanker sector, he said it was in general in better shape than container or dry bulk shipping. "Tanker rates have improved significantly from their lows in 2009 and the industry is operating at better than breakeven at this point. However it is not clear that these gains are sustainable beyond the short term. Rate increases during the winter months are par for the course and oil stocks in developed economies are already high," he said.

Tanker charter earnings have improved a bit since the beginning of this year. However, it hasn't translated into liquid bulk and oil tanker owners commanding any premium rates now, compared to a few months earlier, experts said.

"Today, it is more of a charterers' market as there still remains surplus of tonnage. That is mainly due to the global recession as oil demand has dropped quite a bit. So charterers are in a strong position now, while oil tanker owners are not commanding any premium. Most of the time they are just trying to break even the cost or are earning very low returns," said Hamalton.

He said the refinery capacity of the Middle East was increasing. This meant greater production and export of such products from this region to the global market, and that in turn would support the liquid bulk shipping (and especially the tanker) market going forward.

"In the last year tanker owners suffered quite a bit because the liquid bulk shipping market was hit by oversupply of newbuilding tankers. However, unlike the dry bulk market, the liquid bulk market didn't see many bankruptcies last year. Most owners have managed to stay alive," he said.

As regards outlook for dry bulk shipping, Bellur said the sector would continue to be challenging in the medium term. "The sector faces fundamental structural issues and recovery in dry bulk shipping rates from record lows may not be sustainable. Significant new capacity came into the market in 2009 and an even higher rate of deliveries is expected in 2010, exacerbating overcapacity in the sector," he said.

He said for owners, a steep decline in asset values, their large committed order books and a scarcity of fresh equity pose significant challenges. Several have already declared bankruptcy and, barring an unlikely and significant turn in fortunes, more are likely to follow in 2010.
Keep up with the latest business news from the region with the Emirates Business 24|7 daily newsletter. To subscribe to the newsletter, please click here.
Follow Emirates 24|7 on Google News.