Oil storage in tankers may top 80m bbls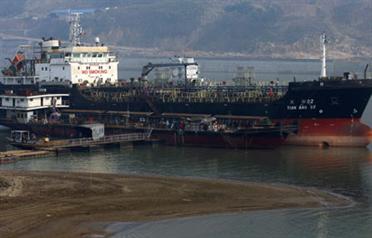 Global storage of crude oil in supertankers has risen to a high of at least 80 million barrels despite the Organisation of the Petroleum Exporting Countries' (Opec) oil supply cuts, Frontline, the world's largest tanker company, said.

Offshore storage levels continued to rise this year despite a series of agreements by Opec since September to take a total of 4.2 million barrels per day (bpd) of oil off global

"It's a bigger number than I remember ever seeing in recent times," Jensen said, adding stocks at sea may now be at the highest level in more than a decade.

Shipping industry sources said many large oil and trading companies – including some from Opec countries, such as Venezuela – are storing more offshore barrels now than they held in January, when Opec implemented its most recent cuts.

Economic recession has cut global oil demand and pushed crude storage to near its operable limits in hubs like Cushing, Oklahoma, the world's largest commercial oil storage site, which held 34.9 million barrels last week.

That has pushed companies to store more crude on very large crude carriers (VLCCs), which carry 2 million barrels apiece.

As many as 45 VLCCs are engaged in crude storage or have been optioned for storage once their cargoes of crude reach their destination, according to other shipping industry sources who requested anonymity. Others put the figure closer to 70 million barrels.

Sources said the number of tankers storing crude may have risen by a third since late 2008.

Opec cuts and the prospect of a US economic stimulus package that could help oil demand recover have contributed to a contango market, a market condition where crude futures for later delivery months trade higher than barrels for prompt delivery.

To lock in a profit from the contango, traders buy discounted prompt crude, store it, and simultaneously sell barrels for delivery in future months

Since January, barrels for front-month delivery have sometimes been discounted by 25 per cent to barrels for delivery in the subsequent month. Light, sweet barrels for April delivery at Cushing traded for $39.90 a barrel on Monday, while barrels for December delivery were trading at $48.70.

"Margins have fallen a bit but storage is still a good option," Jensen said.

Since storage players stand ready to sell contango crude any time that prompt prices rallies, the abundance of stored oil may complicate Opec's hopes of quickly lifting prices, which have fallen from record highs over $147 a barrel in July.

"If you have a lot of tankers sitting there full of oil and suddenly they feel it's time to unwind, it could push prices down in a big way," said John Kulukundis, who directs research at tanker broker Charles R Weber in New York.

Shell has several VLCCs storing contango crude off the northeastern coast of Britain, according to shipping industry sources and Reuters tanker data.

In the US Gulf Coast, Kansas-based Koch Supply and Trading has been seen making a large storage play as well.

Even Opec players are involved in offshore crude storage. Venezuela's PDVSA has leased a VLCC for the purpose, while Iran has often employed tankers for this type of storage.

At least eight VLCCs believed to be full of oil in storage can be tracked to waters near Galveston, Texas. Some traders put the numbers higher, estimating there are more than 30 VLCCs floating around the Gulf Coast and Caribbean region combined.

On Friday, there were 26 tankers located in waters near Galveston, Vessel Traffic authorities said, although it was unclear how many were VLCCs.
Follow Emirates 24|7 on Google News.