Palm Monorail to start service in April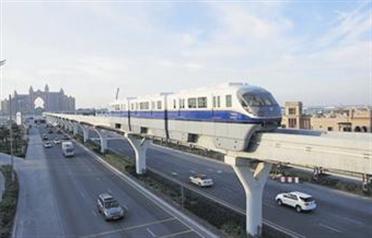 Nakheel has hosted a delegation from the Roads and Transport Authority (RTA) on the Palm Monorail's first official journey.

And the developer has confirmed that the service will open to the public in April this year.

The delegation, led by RTA CEO Abdulmajid Al Khaja, travelled from Gateway Station at the trunk of the Palm Jumeirah to Atlantis Aquaventure Station at the other end of the track. The 5.45km trip took eight minutes.

"On the first official journey between the Gateway and Atlantis stations, representatives from Nakheel and RTA were able to experience this fabulous example of modern transportation, design and construction," said Nakheel CEO Chris O'Donnell.

"We have been working very closely with our strategic partner – the RTA – since the Palm Monorail's inception. Our co-operation with the RTA extends as far as a joint ticketing system that will enable a holder of an RTA farecard to pay for journeys on the Palm Monorail."

Al Khaja said: "Our partnership with Nakheel on the Palm Monorail project has been a very fruitful and exciting experience. It is the hard work and commitment of many dedicated people that has allowed us to experience the first official ride on the Palm Monorail.

"Together Nakheel and the RTA have focused on delivering a service, which will enhance the other transportation projects currently under way in Dubai."

"When we connect the Palm Monorail to the Metro we will be able to offer passengers a seamless journey from Dubai International Airport to the hotels on Palm Jumeirah using just one farecard," he added.

"As we enter the final stages of completion we look forward to the next important stage of welcoming Dubai's residents and many visitors on board."

The Palm Monorail is the first system of its kind to be completed in the Middle East. State-of-the-art technology has been used to overcome a number of challenges including running 1,000m of rail over the sea, coping with Dubai's unique climatic conditions and protecting the communities of Palm Jumeirah from noise pollution by using a virtually silent track system.

The system has been developed by a consortium of leading international companies, led by the Marubeni Corporation, and is fully automatic and driverless, though an attendant will be on board at all times.

The monorail will initially carry up to 2,400 passengers per hour per direction in four separate trains, each made up of three cars. At full capacity the figure will rise to a maximum of 6,000 people in nine vehicles.
Follow Emirates 24|7 on Google News.