Patel Integrated Logistics eyes tie-ups to expand in the region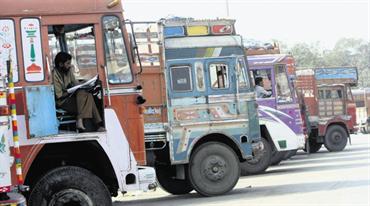 India-based logistics company Patel Integrated logistics (PILL) is scouting for potential strategic business tie-ups in the Middle East to support its expansion plans.

"We are currently planning to further expand as Indian market is fundamentally strong and has been built over decades of hard work and precision.

"Due to the currently potential in retail business marketplace we plan to further strengthen our presence and are currently looking for potential investor who are interested in coming down to India with us," said Asgar Shakoor Patel, Chairman of the House of Patels Group.

Established in 1959, Patel Roadways, the company's flagship division, is one of the leading surface logistics and transportation providers in India having an extensive network of more than 500 stations across the country, employing more than 1,000 people.

It moves cargo worth Dh11 billion annually for more than 75,000 customers. Patel Integrated has one of the best processes of fleet and vendor management, which is attracting vendors to invest and work with them.

Areef Patel, Executive Vice-Chairman, Patel Integrated Logistics, said: "Patel Integrated has set a vision to be among the top three logistics providers in India. In line with its strategy to capitalise on the long-term growth opportunity, the company has embarked on a growth plan to expand its fleet, add warehouses, upgrade technology and improve customer service.

"The company has undergone a phase of metamorphosis and transformed itself from a mere trucking and transportation company to becoming an Express Delivery Logistics Cos in the market place, by carving a niche for itself."

In line with the expansion plans, the company has recently entered into an exclusive MOU with Eicher Motors to initially purchase 225 trucks for about Dh16 million for various types of vehicles ranging from 3.00 tonners to 16.00 tonners.

Patel Integrated will also be acquiring and strengthening its own fleet in line with its Vendor Acquisition Strategy in India.

The company was formed in 2006 with the amalgamation of the Patel Roadways and Patel On-Board Couriers. The purpose of the amalgamation was to provide a one-stop logistics solution to the customer under one roof deriving the following synergies. Patel Integrated is one of India's leading logistic firms, providing unified solutions through door-to-door express cargo service, surface transport, air and sea transportation as well as offering services in warehousing and secondary distribution.

Patel Integrated is part of the 50 years old group – House of Patels – which is a multi million dollar conglomerate with interest in diversified fields, including transportation, logistics, finance, constructions, courier and real estate.

The company has net assets of $200m (Dh734m) and market capitalisation of $500m. It has its offices in the UAE, the United States, the United Kingdom, Canada, India, Hong Kong, New Zealand and have agents and representatives in more then 80 countries.
Follow Emirates 24|7 on Google News.