Qantas to raise $322m as profit drops 66%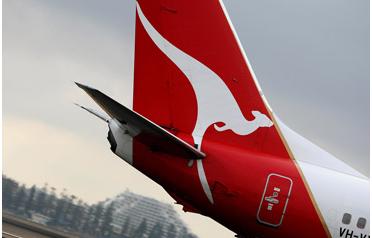 Qantas, like many other airlines, is battling slumping demand for air travel as the global economy faces its worst financial crisis since the Great Depression. Airlines have responded by trimming capacity to adjust to the worsening demand.
Qantas, which will also use the funds to renew its fleet, said it was not immune to the global recession, but reconfirmed profits before tax for the full year would be around A$500 million.
Qantas cut its full-year profit forecast by 65 per cent in late November and said it had made capacity reductions equivalent to grounding 10 planes.
Global passenger traffic will fall 3 per cent this year, the first drop since 2001, and airline losses will total $2.5 billion (Dh9.2 billion), putting hundreds of thousands of industry jobs at risk, the International Air Transport Association (Iata) said in December.
"The aviation sector is experiencing a high degree of volatility," Chief Executive Alan Joyce said in a statement.
"Numerous airlines have failed over the past year, while many are unable to produce profits and are at risk of becoming unsustainable," he said.
Qantas said on Wednesday it will cut its fiscal year 2010 capacity growth to 2 per cent from 10 per cent planned earlier. Its net debt at end December was A$6.46 billion, up 38 per cent from end June.
Bidding for Qantas' share offering is expected to be strong. One source, who has seen the term sheet, said the new shares were offered in A$1.80-A$1.95 each range, a discount of up to 21.4 per cent discount to its last traded price.
"The balance sheet was not in a state of distress, which is obviously a positive," said Jason Teh, a fund manager with Investors Mutual, which oversees about A$3 billion including Qantas shares.
"Given the tough operating environment in the airline space, many opportunities will turn up, and the management has taken a more prudent step to make sure the balance sheet is stronger going into the downturn," Teh added.
But Standard & Poor's said Qantas's credit rating would remain negative despite the planned raising, reflecting tough conditions facing the airline industry.
Australian companies have gone into capital raising overdrive, with several blue-chip companies including Wesfarmers Ltd and Westfield Group, having already announced about A$7 billion worth of share sales so far in 2009.
Difficult credit markets are forcing companies to turn to equity markets to meet their funding needs, analysts said, and they expect more companies to tap share markets for capital.
Qantas' profit after tax dropped to A$210 million for the six months to December 31, down from A$618 million in the previous corresponding period. That compared with A$218 million, according to Reuters Estimates.
Analysts said Qantas's soft operating results weighed on shares of smaller Virgin Blue Holdings Ltd, which fell 6.4 per cent to A$0.295, outpacing a 0.9 per cent fall in the benchmark S&P/ASX 200 index.
Fuel costs for the period were A$2.2 billion, nearly 29 per cent higher than the previous half year.
Qantas said it would pay an interim dividend of 6 cents.
Shares of the airline, which has a market value of $2.8 billion, were suspended on Tuesday pending the announcement. The stock has fallen 14 per cent in the last month and 52 per cent over the past year as global economic conditions worsened. 
Follow Emirates 24|7 on Google News.
Australia's national carrier Qantas Airways Ltd said first-half profit fell 66 per cent, hurt by high fuel costs and a downturn in international travel, and flagged a A$500 million ($322 million; Dh1.18 billion) equity raising to repay debt.