Qatar Airways' expansion plans on track despite crisis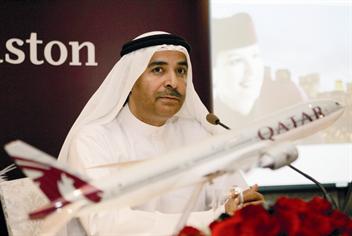 Shrugging off downturn concerns, Qatar Airways is still committed to growing at about 35 per cent this year, according to a senior airline executive.

"We have been clocking year-on-year growth of 30-35 per cent in passenger traffic over the last 10 years and this year, too, we aim to maintain that growth," said Ali M Al Rais, Qatar Airways' Executive Vice-President – Commercial, adding the airline carried 12 million passengers last year.

"We have not been affected by the global financial crisis yet. Our revenues have been extremely good… in fact the best so far. And we have not seen any drop in future bookings as well," he added.

Al Rais further said that although the airline has seen a slight drop in its Europe traffic, the growth markets for Qatar Airways in 2009 would mainly be "Asia, Africa and the Middle East". "Regional carriers in the Middle East are in a much better shape compared to the others around," he said.

The Doha-based carrier, which said yesterday it would be launching its third US route – Houston, on March 30, 2009, is also on track to launch more than 120 destinations by 2012, up from its current destination network of 83 cities, according to Al Rais. Qatar Airways' launch date of the Houston route was pushed back from last month to March to await delivery in early February of the airline's first Boeing 777-200 long range aircraft.

"We launched 11 routes last year and we will be launching many more destinations this year as planned," he said, adding that the airline would be receiving one new aircraft (Boeing 777) a month this year. Qatar Airways is expected to operate a fleet of 110 aircraft by 2013.

With more than $40 billion (Dh146.8bn) investment in more than 200 aircraft and a current fleet size of 65 aircraft, Qatar Airways is confident of securing financing for the new aircraft.

"It is a tough market, but banks are still being very supportive, and are delighted to work with us. Thus securing financing for our planes has not been tough for us," Al Rais said, adding Qatar is a cash-rich state with strong credit worthiness.

Furthermore, the airline plans to operate its first commercial flight using natural gas in 2010, said Al Rais.

"The GTL (Gas-to-Liquid) project with Qatar Petroleum, Shell, Rolls-Royce and our other partners is still very much on course, and is nearing completion. This is the time it is most needed as the use of this technology can result into more than 25 per cent of savings," he said.

No plans to bid for olympic

Qatar Airways has no plans to bid for Greek national carrier, Olympic Airlines, according to Ali M Al Rais. "We never bid for it. It was an offer that came our way. We will never get involved in any other airline ventures, nor have we ever pitched for any airline," he said.

The Doha-based carrier last month was understood to be in talks with Olympic Airlines for a possible stake.


Boeing 787 delivery key to expansion

With all plans in place, Qatar Airways' expansion would eventually depend on aircraft deliveries, according to Ali M Al Rais, the airline's Executive Vice President – Commercial.

He said Qatar Airways has been affected by the delay in the delivery of Boeing's 787 Dreamliner, of which the airline has 60 aircraft on order (30 firm orders with 30 options), and that the airline is in talks with Boeing over compensation.

Though Al Rais did not divulge the compensation amount, he said: "It's standard that we have a compensation clause in all of our agreements. They [Boeing] already know they have been at fault and they also know the clause will kick in."

He also said that the airline has not yet received a new delivery schedule for the aircraft order.

"But we have adjusted our expansion plans accordingly. Fortunately we did not completely bank on 787s.

"We have also got Airbus orders, for instance 80 Airbus A350s," he added.

The airline, which has five A380 superjumbos on order, is expected to receive its A380 orders by 2011 to coincide with the opening of Doha's new international airport, according to Al Rais.


Follow Emirates 24|7 on Google News.