Qatar Airways to get first B787 in September 2011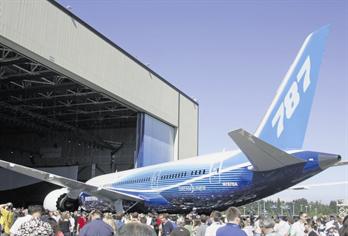 Qatar Airways will receive its first Boeing 787 aircraft "on schedule" in September 2011 after having suffered a series of delays, according to the airline's top executive.

"Boeing has now confirmed to us that we will receive our first 787 aircraft in the third quarter of next year with the first aircraft arriving in September 2011," Akbar Al Baker, Qatar Airways' Chief Executive Officer, told Emirates Business.

The Doha-based carrier, which has 60 of the Dreamliners on order (with 30 firm aircraft orders and 30 on options), is due to receive the first three 787s next year.

"As of today, we are going to receive three 787 aircraft next year. And we hope they will improve and maybe supply us with more aircraft because we are in need of additional planes and we are pushing Boeing in that direction," said Al Baker, adding the airline is looking at "accelerated deliveries" of its 787 orders.

Al Baker had recently said the airline was contemplating cancelling its 787 orders due to the multiple delays to the Dreamliner by Boeing.

Originally meant to fly in August 2007 and reach customers in May 2008, Boeing delayed the plane five times because of unexpected hurdles with new composite plastics and an outsourced supply chain that stretched to 135 sites around the world.

The delays prompted Al Baker, perhaps the most vocal of the Gulf aviation sector, to issue an ultimatum to Boeing where he threatened to cancel orders if there were any further delays.

He had stated on BBC Hardtalk: "I am not playing with words… I want my aircraft earlier… We gave them ultimatum to accept the conditions because they have been continuously delaying the delivery," he said.

"If this is the way they treat customers they will not only miss me but other countries as well."

The United States planemaker was then successful in making Dreamliner's first test flight in December last year. When quizzed on his earlier outburst, Al Baker said: "I had said earlier that if there were additional delays to the 787 programme, we would cancel all our orders with them and move to Airbus. But now we are happy with them. And Boeing will oblige by accelerating the 787 deliveries."

He added: "Boeing has just started the 787 flying programme and the acceleration of deliveries depends on how flying programme develops."

Asked if the airline has set any deadline for Boeing for 787 deliveries, Al Baker said: "There was a deadline and they [Boeing] have obliged. And we are now back on track with them."

He, however, did not divulge any details about the compensation being claimed by the airline from Boeing. "The compensation issue is between Qatar Airways and Boeing, and I cannot talk about it," he said.

Etihad Airways, Oman Air, Bahrain-based Gulf Air and Dubai Aerospace Enterprise have also invested billions in the aircraft, bringing the combined order in the Middle East to cross 100 aircraft.
Keep up with the latest business news from the region with the Emirates Business 24|7 daily newsletter. To subscribe to the newsletter, please click here.
Follow Emirates 24|7 on Google News.