Qatar firms and Airbus gear up to develop bio jet fuel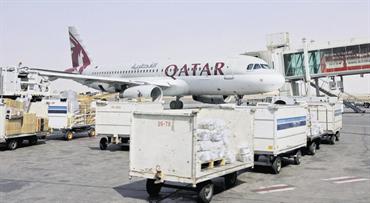 Qatar Airways has joined hands with Qatar Science and Technology Park and Qatar Petroleum to develop a new alternative fuel – BTL (biomass-to-liquid) – with the support of Airbus.

The move comes close on the heels of the Doha-based carrier conducting the world's first commercial flight powered by a GTL (gas-to-liquid) fuel blend in October 2009.

Qatar Airways said yesterday it is in the process of carrying out engineering, economic analysis and move into the development of sustainable bio jet fuel that will also look into ways for production and supply.

It further said that it recently embarked on a feasibility study on sustainable BTL jet fuel and possible by-products such as bio diesel.

"The BTL will first to be used in our airlines, and then it will be expanded to use globally as the supply of this fuel increases," said Akbar Al Baker, Chief Executive of Qatar Airways.

It is the next phase of alternative fuels as the airline is continuing to further develop alternative fuels, he said.

When asked why the airline is going for BTL now (since it already has GTL), Al Baker said: "GTL will keep on progressing. We already have proof of concept. There will be a higher mix of GTL. And the reason why we are going for BTL now is that in the recent Copenhagen climate conference, world leaders failed. But the leadership in Qatar has vision and support for us in helping to deliver on big ideas.

"Building on the experience and success of the GTL Consortium, we now move to the next phase of alternative fuels while continuing to develop GTL further. While others talk, we take action."

He added that GTL will continue to be produced in Qatar, and the country would be the shining capital of GTL. "We would also be the largest producer in the world of bio fuel."

Al Baker further said that the new alternative bio jet fuel being studied by Qatar Airways – due to be completed soon – will target "non-food" chain bio fuel. The study, according to the airline, looked at all available bio feed stocks that would not affect the food or fresh water supply chain, besides looking at existing and future production technologies with a viability analysis.

"Qatar Airways already has one of the lowest carbon footprints in the industry, while everyone is focusing on global warming," Al Baker pointed out.

"Qatar Airways already has one of the lowest carbon footprints in the industry due to its investment of billions of US dollars in a state-of-the-art aircraft fleet. By entering into the production and supply of bio jet fuels, we will be able to get closer and closer to the much-talked-about carbon neutral growth," he added.

When quizzed on savings that Qatar Airways is projecting to accrue by the use of alternative fuels, Al Baker told Emirates Business: "Whatever cost we will incur will be an investment in our future generation."

He also did not divulge any investments into the new alternative fuel BTL that the airline is studying to develop. "I do not want to announce any investments. It is confidential. Qatar Airways always has funds left aside, along with its partners to do such research," he said.

When asked if Qatar Airways would now only consider Airbus to use alternative fuels, Al Baker said: "We operate both kinds of aircraft but Airbus has been more proactive than Boeing in developing such fuels. And we always want to work with the partner that has ability and vision to support our future ideas."
Keep up with the latest business news from the region with the Emirates Business 24|7 daily newsletter. To subscribe to the newsletter, please click here.
Follow Emirates 24|7 on Google News.