QE2 all spruced up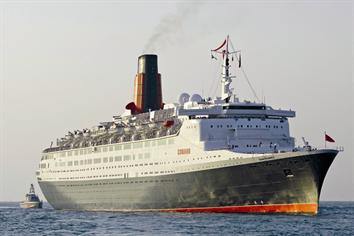 The great transatlantic ocean liner of yesteryear's Queen Elizabeth 2, or QE2 as she is popularly known, is now in a better condition, thanks to a dedicated maintenance programme by Nakheel, than she was in when she arrived in Dubai in November 2008.

QE2 was a Cunard ocean liner before she retired after being succeeded by RMS Queen Mary 2 in 2004 and was bought by Nakheel who plans to eventually convert it into a floating hotel that will be moored at Palm Jumeirah.

Built in Clydebank, Scotland, QE2 was named after the earlier Cunard liner RMS Queen Elizabeth and served as the flagship of the line from 1969. QE2 is currently berthed at Port Rashid where she has been since her arrival in Dubai and Nakheel has implemented a maintenance and repair programme for the cruiseliner.

A communique issued by Nakheel said that due to the maintenance programme the QE2's current condition is better than it was when she arrived on November 26.

The maintenance programme involves keeping at least one engine of the QE2 running to provide power and lighting and to ensure that air is circulating properly throughout the ship to avoid unnecessary deterioration of, in particular, the key historic areas of the ship which Nakheel will be restoring and preserving.
Follow Emirates 24|7 on Google News.