Region's air charter firms see business travel slowing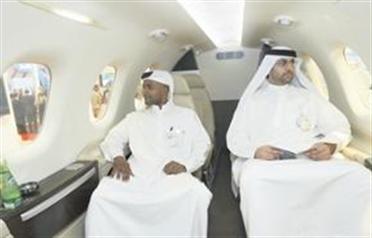 Air charter companies in the Middle East have seen demand slowing down for corporate travel while it is business as usual with other niche markets, according to senior level executives at charter companies.

While high net worth individuals, celebrities and heads of state continue to patronise private charters for reasons beyond economic ones, smaller charter firms are beginning to feel the impact.

John Morgan, Vice-President Commercial, Royal Jet, told Emirates Business: "One of the reasons they choose our services is the level of confidentiality that we offer. It is our policy not to release details of their identity. The requirements of a high net worth individual are very high and the ability for them to have maximum flexibility is important."

Smaller firms on the other hand, which operate one to four aircraft, are finding the demand slow but say are customers are still coming in.

Imran Ahmed, Marketing Manager for Western Aviation, said: "We are seeing a dip in corporate travel, as companies have cut back on travel costs and senior executives are now flying scheduled airlines, but the demand is still there. However, for the high net worth individual the cost is not an issue."

Other charter companies have found niche markets that require specialised skills, such as the wet lease charter Silver Air, which flies daily to war zones.

"Corporate travel has not died down completely, it is still there, as sometimes executives have to reach a specific place within a time frame or when the destination is not served by a scheduled airline," Imran said.

But perceptions have changed in the United States, which is the largest market for business jets. News agencies recently reported that beyond the macroeconomic forces driving down sales of corporate jets, companies are trying to cut costs and finance is drying up, the private airplane also faces an image problem.

The Detroit automakers and Citigroup have come under withering criticism in the past few months for their use of corporate jets at a time when they are turning to Washington for financial support. The world's largest maker of the planes, Textron, recently said customers cancelled orders for 23 of its aircraft in the fourth quarter and that an "unprecedented number" of customers asked to defer their orders.

"It's almost like political suicide" to buy a jet right now, Perry Adams, Vice-President and Senior Portfolio Manager at Huntington Private Financial Group of Traverse City, Michigan, was quoted as saying by Reuters.

In the Middle East, many of the charter companies have revised their growth forecast for a more sustainable expansion.

"This year will see a year of measured and practical growth," Morgan said.

He added that that one such strategy is focusing on aircraft management in the super-midsize range.

Recent industry studies credit the Middle East business aviation sector with achieving a compound annual growth rate of 40 per cent in terms of aircraft movements and fleet growth, with Saudi Arabia and the UAE driving the momentum.

While Saudi Arabia is currently leading the surge, the UAE is catching up fast. Furthermore, the value of the region's charter market has achieved two per cent annual growth in 2008 over the past two years.

The local market for private jet services is about $500 million (Dh1.83 billion) a year, of which Royal Jet holds about 16 per cent market share, according to Morgan. "Royal Jet has seen year-on-year growth in the order of 25 to 30 per cent for the past three years, and there is currently no sign of that abating," he added.

"Last year, Royal Jet exceeded its targets across all business parameters including VIP aircraft charter, fixed base operations and medical evacuation. Our profit margins and revenue maintained healthy growth year-on-year. The demand for our services continues to increase."
Follow Emirates 24|7 on Google News.