Regional ship funds see opportunities in falling values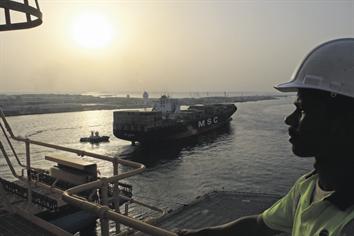 With asset values within the shipping industry continuing to drop sharply as demand for vessel employment slides, ship funds in the Middle East are looking at opportunities for cheap buyouts, said a senior ship finance executive in Dubai.

The low value of ships has made current transactions more attractive to ship funds, which expect higher investment returns if deals were to be made under the current conditions.

Tufton Oceanic, a private fund manager in Dubai is creating a distressed fund with anticipation of an increase in distressed sale of ships as many shipping companies fail to break even.

"Ship owners are increasingly finding it difficult to operate their ships under the current conditions, they continue to make losses as demand for sea transport drops," Jonathan Hill, Managing Director, Tufton Oceanic Middle East, told Emirates Business.

"In the absence of debts and retained equity to sustain business, ship owners are beginning to sell off their assets at levels we consider attractive."

He said that the Oceanic Distressed Fund would be launched in the first quarter of this year and that it is expected to raise over $200 million (Dh734m) from investors, which would be used to buy vessels in distressed sales.

"Any ship financing put together today would be in position to provide higher returns to the banks or the equity investors because money is more expensive today," said Hill.

He pointed out that because the asset costs have gone down, the risks associated with transacting in those assets has gone down too since earnings required to service financing has reduced tremendously. Hill said the only problem for funds was lack of easy access to financing from banks.

"Had it been easy to easily access sources of bank finance, we would be able to put on quite a large number of transactions given the existing opportunities, unfortunately bank finance is not easy to come by at the moment," added Hill.

Kuwait Finance House, the Gulfs third-largest lender, said late last year that it was aiming to raise $600m in funds from Middle East investors in 2009 to buy ships, stakes in private firms and properties in Asia.

The lender noted that although it is not going to be easy to rise funds, it still believes the current conditions provides opportunities to buy assets cheaply.

The traditional ship funds in Norway, German and Greece have been hit by the current financial meltdown due to a sharp drop in returns from a majority of their asset investments.

Analysts believe that this situation will open another door for regional funds to rise and compete favourably against established players.

Hill said that Tufton Oceanic was also considering acquiring bond portfolios as well as debt portfolios from banks that are no longer interested in ship financing.

"While bonds issued by shipping companies were yielding about 6 per cent in the past nine months, the yields have gone to as high as 15 per cent," said Hill.

Tufton Oceanic is currently managing a $250m fund in association with Kuwait Finance House targeting investment into the marine and offshore oil services sector. The portfolio was expected to be fully invested by mid-2008.

However, the change in the global economic conditions, which severely impacted the shipping industry slowed down transactions. Current transactions for the existing fund include an offshore oil service installation, a specialised livestock carrier, different types of tankers with charters attached and offshore oil services assets with charter attached.

The existing fund is not making any investments in the dry bulk sector whose charter earnings have fallen by 90 per cent in the past five months. A new fund with Kuwait Finance House will be launched by mid-2009, according to Hill.

According to a recent report from Kuwait's Sabaek Leasing and Investment Company, the Middle East and North Africa will have better ship-leasing opportunities than Asia, America and Europe. It said that nascent Arab markets were not subject to the supply and demand principle since they do not abound in ships.

Iran earned over $900m worth of leasing its 31 oil tankers, in spite of international financial sanctions on Tehran, it said.
Follow Emirates 24|7 on Google News.