Royal Caribbean looks to set up Dubai hub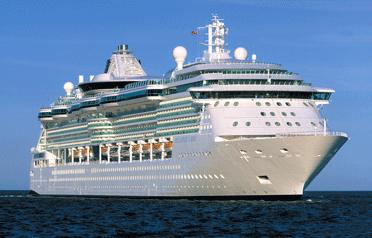 Florida-based Royal Caribbean International cruise line has announced the possibility of setting up a hub in Dubai at a later date, following in the footsteps of competitor, Italy's Costa Cruises.

The company also plans to set up a Dubai-Mumbai cruise route in 2011. RCI's Senior Vice-President International, Michael Bayley, revealed this to Emirates Business during the cruise line's maiden docking of the ship, Brilliance of the Seas, in Dubai yesterday.

He said: "It is still too early to confirm anything, however, we expect phenomenal growth from this region and there is a strong possibility that our development plans will include setting up a hub for RCI in Dubai."

Bayley said that while the region's growth chart looked promising, currently the Gulf only accounted for a small percentage for the cruise liner's global revenue.

"The region can't account for more than revenues in single digit for RCI," said Bayley. "However, we expect it to grow to double digits in a few short years."

RCI's Brilliance of the Seas departed Dubai early this morning for its seven-night roundtrip sailings to Muscat, Fujairah, Abu Dhabi and Bahrain, before returning to homeport of Dubai. The tour will continue over the next four months.

"We expect 32,000 passengers to pass through Dubai's port over the four months and RCI is also committed to returning in 2011," confirmed Bayley.

Listed on the New York Stock Exchange, RCI was not spared in last year's economic downturn, which saw the cruise company's revenues to dip in double digits.

"The company saw its yield revenue drop by nearly 12 per cent in 2009, however, our volume increased by nearly six per cent," said Bayley. "As for 2010, we are quite pleased at the way our expansion plans are heading and we expect it to be a lucrative growth year for us. We estimate RCI's volume to further increase by six per cent by end of 2010."

RCI, currently operating five brands, will introduce new ships later this year, targeting the United Kingdom market. "Our traditional markets have been the UK, US, Germany, Russia and Australia. Following this, we also plan to expand into new and emerging markets very soon."

He added: "Next year, we are looking at launching a Dubai-Mumbai cruise route, focussing on India as an emerging market," said Bayley. "China is another big one, which we predict, will witness triple digit growth by 2011. This is why we have already set up four offices in the country."

Talking about competition, Bayley admitted that every cruise company, vacation resort and holiday package, other than on RCI, was competition for the company.

Furthermore, when quizzed about the how much business the cruise industry has lost in recent years to sea piracy, Bayley stated that RCI had not been affected in any way.

The company, which has more than a 30-year history in cruise liners, currently operates 21 ships, with one under construction.
Keep up with the latest business news from the region with the Emirates Business 24|7 daily newsletter. To subscribe to the newsletter, please click here.
Follow Emirates 24|7 on Google News.