Russia showcases 'black hole in the ocean' submarine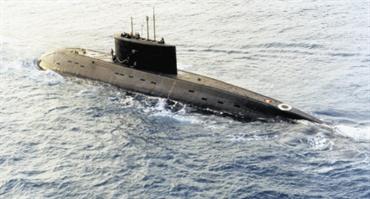 Russia is displaying a model of its famous Kilo-Class attack submarine at the International Defence Exhibition and Conference 2009 (Idex) in Abu Dhabi in a series of advanced warships intended to demonstrate its naval muscle.

Three of the Kilo-Class submarines were delivered to Iran during the 1990s despite strong protests from the United States and other Western powers.

Delegates at Idex said several Kilo-Class submarines had also been sold to other countries along with the Russian army, including China, India, Indonesia, Libya, Romania, Poland and Venezuela.

Dubbed "a black hole in the ocean", the diesel-run non-nuclear Kilo-Class is believed to be one of the most advanced submarines in the world and its maker, Rubin Company, hopes other countries in the Middle East would buy the vessel.

"We are ready to discuss deals with any country and we hope to see some interest from this region," said a Russian delegate at Idex. "They can test the submarine and I am sure we can meet their needs."

Known in Russia as Project 877, the submarine was designed for anti-submarine and anti-ship warfare in the protection of naval bases, coastal installations and sea lanes, and also for general reconnaissance and patrol missions.

The Kilo is considered to be one of the quietest diesel submarines in the world. It consists of six watertight compartments separated by transverse bulkheads in a pressurised double-hull.

"This design and the submarine's good reserve buoyancy lead to increased survivability if the submarine is holed, even with one compartment and two adjacent ballast tanks flooded," a Russian delegate said.

The submarine has a length of about 74 metres and a maximum diving depth of 300 metres. It can accommodate a crew of 52 and is equipped with six torpedo missiles.

"The most important advantages of Kilo-Class are that they have a very low noise, perfect hull architecture, powerful mine-torpedo and missile automated weapons and easy maintenance," the company said.

Rubin officials said the submarine had gone through several stages of development since it was launched.

"The beginning of the 21st century is marked with active construction of new and modernisation of existing Kilo-Class submarines," one official said.
Follow Emirates 24|7 on Google News.